BORDERTEC BBS perimeter finishing and protection profile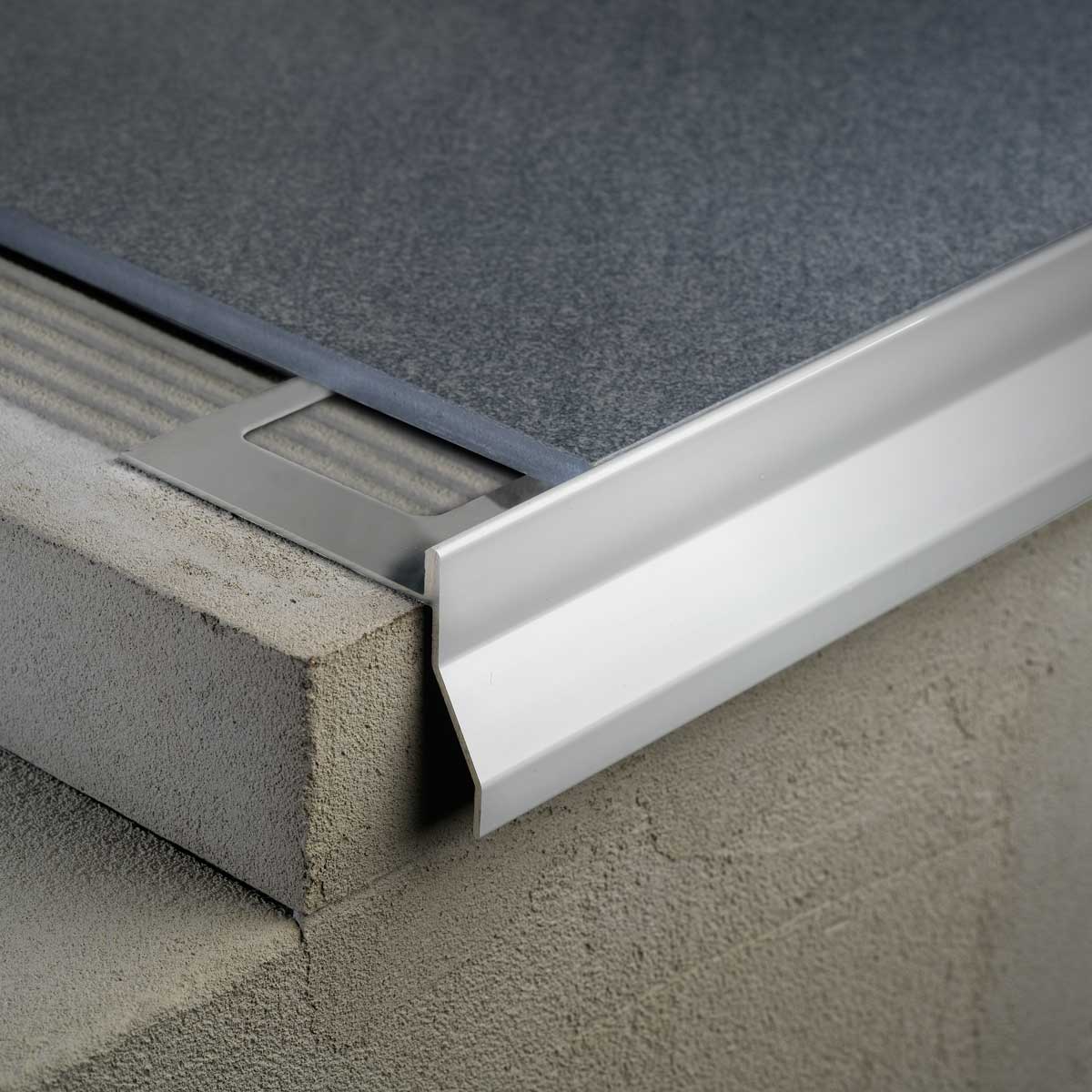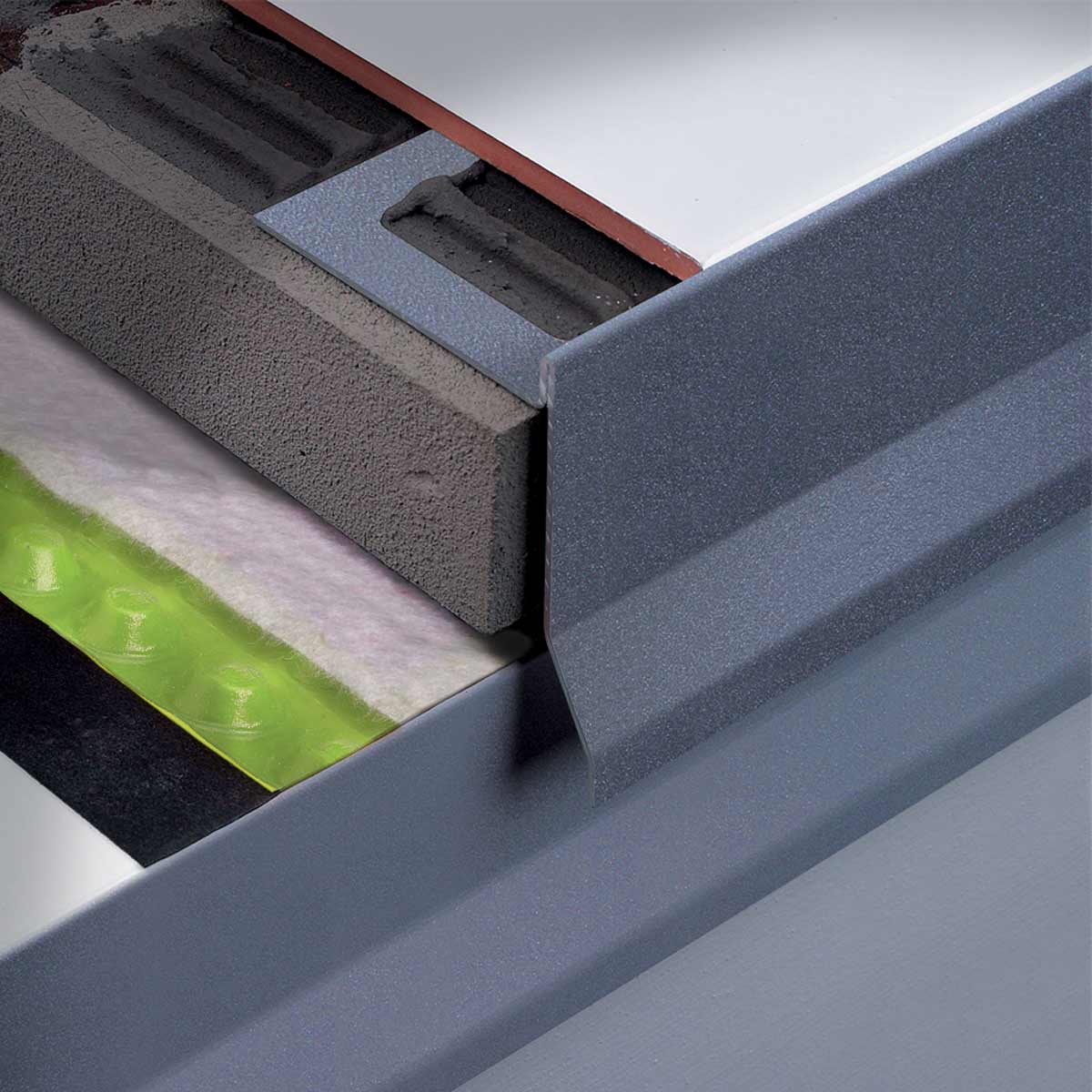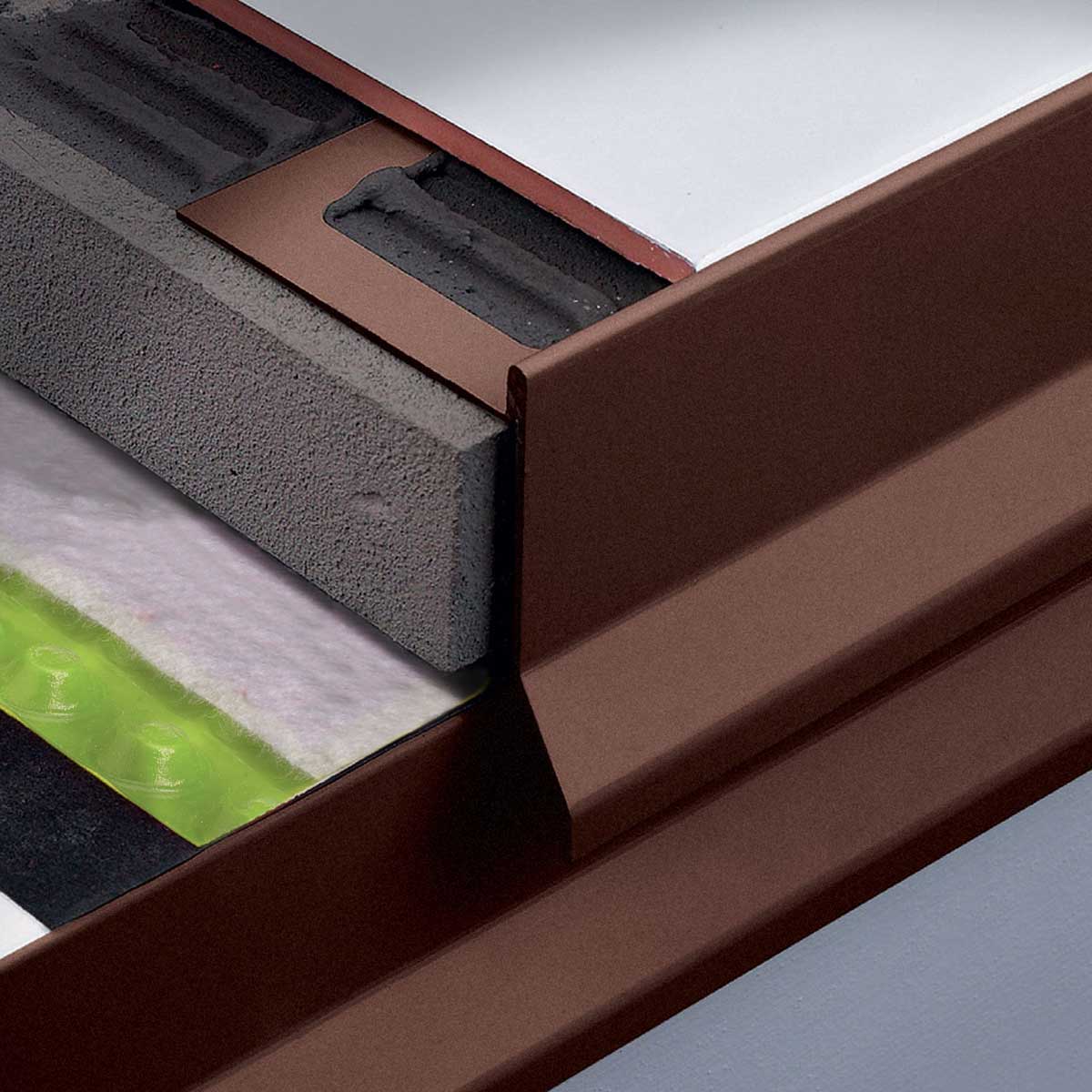 BORDERTEC BBS perimeter finishing and protection profile
BORDERTEC BBS perimeter profiles trim for 3/8" - 10 mm tiles and protect the exposed concrete edge on balconies and terraces. The tiled flooring can be laid flush against the indented lip of the profile section.
Terminal profiles drainage BORDERTEC BBS
A protruding drip edge in the profile protects the DRAINTEC 8 matting placed between the mortar bed and waterproof membrane. Leave a gap to allow for thermal expansion and contraction of the different materials; conceal the gap with an appropriate profile.
How to install border profiles for terraces BORDERTEC BBS
INSTALLATION INSTRUCTIONS: • Select the profile according to the tile and mortar bed thicknesses. • Position the profile around the perimeter of the balcony or terrace simultaneously with the tile installation.
Bordertec BBS-I in AISI 304 DIN Stainless Steel. 1.4301 Polished

BORDERTEC BBS-IL / BCS-IL Stainless Steel Polished AISI 304 - DIN 1.4301 BBS: H = 3/8'' (10mm), BCS: H = 1/2'' (12.5mm) This stainless steel profile ensures high resistance to corrosion.

Accessories

| H = mm | Art. | Finishing |
| --- | --- | --- |
| 42 | BBS 42 IL | Polished |
| 55 | BBS 55 IL | Polished |
| 75 | BBS 75 IL | Polished |
| 95 | BBS 95 IL | Polished |

Bordertec BBS-A in Powder coated Aluminum

BORDERTEC BBS-A* / BCS-A*Powder Coated Aluminum BBS: H = 3/8'' (10mm), BCS: H = 1/2'' (12.5mm) This profile is coated with polyester powder along its entire surface.

Accessories

| H = mm | Art. | Finishing | Color |
| --- | --- | --- | --- |
| 42 | BBS 42 A11 | Powder Coated | Pure White |
| 55 | BBS 55 A11 | Powder Coated | Pure White |
| 75 | BBS 75 A11 | Powder Coated | Pure White |
| 95 | BBS 95 A11 | Powder Coated | Pure White |
| 42 | BBS 42 A22 | Powder Coated | Pastel Grey |
| 55 | BBS 55 A22 | Powder Coated | Pastel Grey |
| 75 | BBS 75 A22 | Powder Coated | Pastel Grey |
| 95 | BBS 95 A22 | Powder Coated | Pastel Grey |
| 42 | BBS 42 A32 | Powder Coated | Dark Beige |
| 55 | BBS 55 A32 | Powder Coated | Dark Beige |
| 75 | BBS 75 A32 | Powder Coated | Dark Beige |
| 95 | BBS 95 A32 | Powder Coated | Dark Beige |
| 42 | BBS 42 A62 | Powder Coated | Red Brown |
| 55 | BBS 55 A62 | Powder Coated | Red Brown |
| 75 | BBS 75 A62 | Powder Coated | Red Brown |
| 95 | BBS 95 A62 | Powder Coated | Red Brown |
| 42 | BBS 42 A63 | Powder Coated | Dark Brown |
| 55 | BBS 55 A63 | Powder Coated | Dark Brown |
| 75 | BBS 75 A63 | Powder Coated | Dark Brown |
| 95 | BBS 95 A63 | Powder Coated | Dark Brown |
| 42 | BBS 42 A24 | Embossed Powder Coated | Embossed Pastel Grey |
| 55 | BBS 55 A24 | Embossed Powder Coated | Embossed Pastel Grey |
| 75 | BBS 75 A24 | Embossed Powder Coated | Embossed Pastel Grey |
| 95 | BBS 95 A24 | Embossed Powder Coated | Embossed Pastel Grey |
| 42 | BBS 42 A25 | Embossed Powder Coated | Embossed Cement Grey |
| 55 | BBS 55 A25 | Embossed Powder Coated | Embossed Cement Grey |
| 75 | BBS 75 A25 | Embossed Powder Coated | Embossed Cement Grey |
| 95 | BBS 95 A25 | Embossed Powder Coated | Embossed Cement Grey |
| 42 | BBS 42 A50 | Embossed Powder Coated | Embossed Micaceous Grey |
| 55 | BBS 55 A50 | Embossed Powder Coated | Embossed Micaceous Grey |
| 75 | BBS 75 A50 | Embossed Powder Coated | Embossed Micaceous Grey |
| 95 | BBS 95 A50 | Embossed Powder Coated | Embossed Micaceous Grey |
| 42 | BBS 42 A60 | Embossed Powder Coated | Embossed Corten |
| 55 | BBS 55 A60 | Embossed Powder Coated | Embossed Corten |
| 75 | BBS 75 A60 | Embossed Powder Coated | Embossed Corten |
| 95 | BBS 95 A60 | Embossed Powder Coated | Embossed Corten |
| 42 | BBS 42 A64 | Embossed Powder Coated | Embossed Dark Brown |
| 55 | BBS 55 A64 | Embossed Powder Coated | Embossed Dark Brown |
| 75 | BBS 75 A64 | Embossed Powder Coated | Embossed Dark Brown |
| 95 | BBS 95 A64 | Embossed Powder Coated | Embossed Dark Brown |
Select items and add them to the quotation list
Select items
(Reset items)
Select the product to request a quote
| | Article | Material | Finishing | Color | Installazione | H = mm |
| --- | --- | --- | --- | --- | --- | --- |
| | | | | | | |