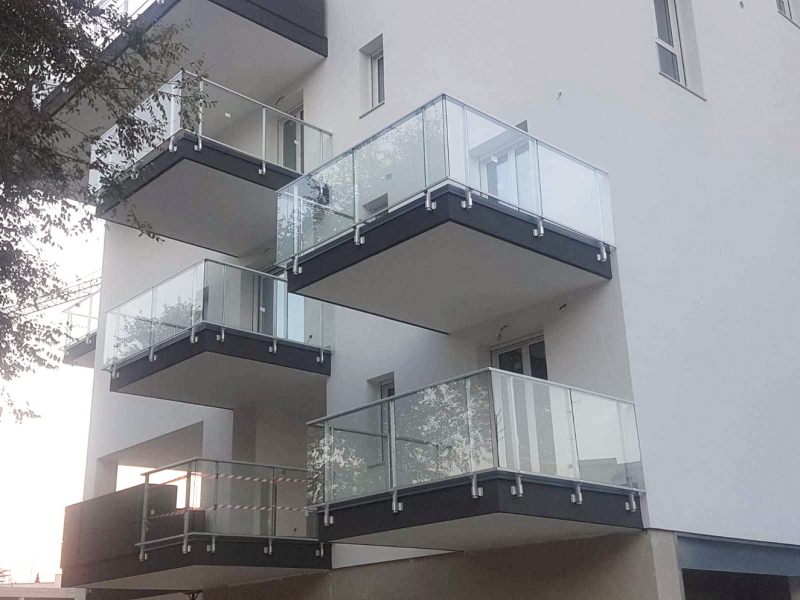 With Bordertec drainage profiles, marble thresholds are eliminated
Realization by
Sabino Cagnetta
Realization by
Sabino Cagnetta
Construction of residential apartments in Terlizzi (Bari) with drainage profiles for terraces
We are on a new residential apartment complex in Terlizzi in the province of Bari.
We asked our area dealer Sabino Cagnetta for the details of the project.
What are the reasons that led to the choice of using a drainage profile for terraces?
"The customer was looking for a method to eliminate the marble thresholds and not have percolation of water on the front".
Which terrace profile have you chosen?
"We chose the Bordertec BBS 55 A63 perimeter profile for terraces in painted aluminum, with dark brown color"
The chosen profile, in addition to the drainage characteristics typical of Bordertec terrace profiles, has a remarkable resistance to atmospheric agents thanks to the finish created by powder coating.
Why did you choose Profilitec profiles?
"The customer decided to use the Profilitec product after finding a greater thickness in the creation of Profilitec products than those of the competition"
The terraces of the apartments were built without using the uncomfortable marble thresholds and present a modern and elegant design thanks to the dark brown finish of the border for the drainage positioned along the perimeter of the terrace. 140 ml of Bordertec BBS drainage profiles were laid.