FLOORTEC uncoupling membrane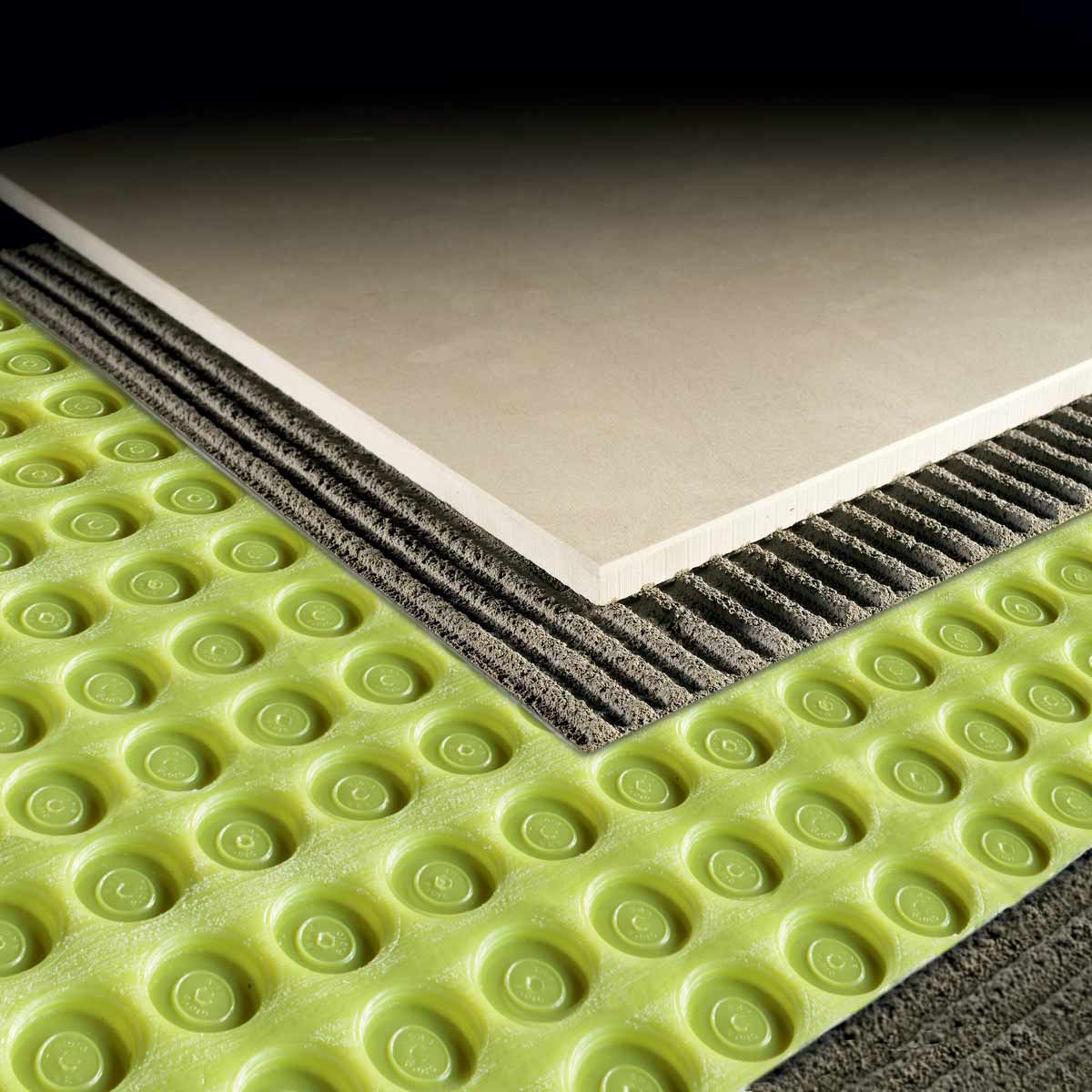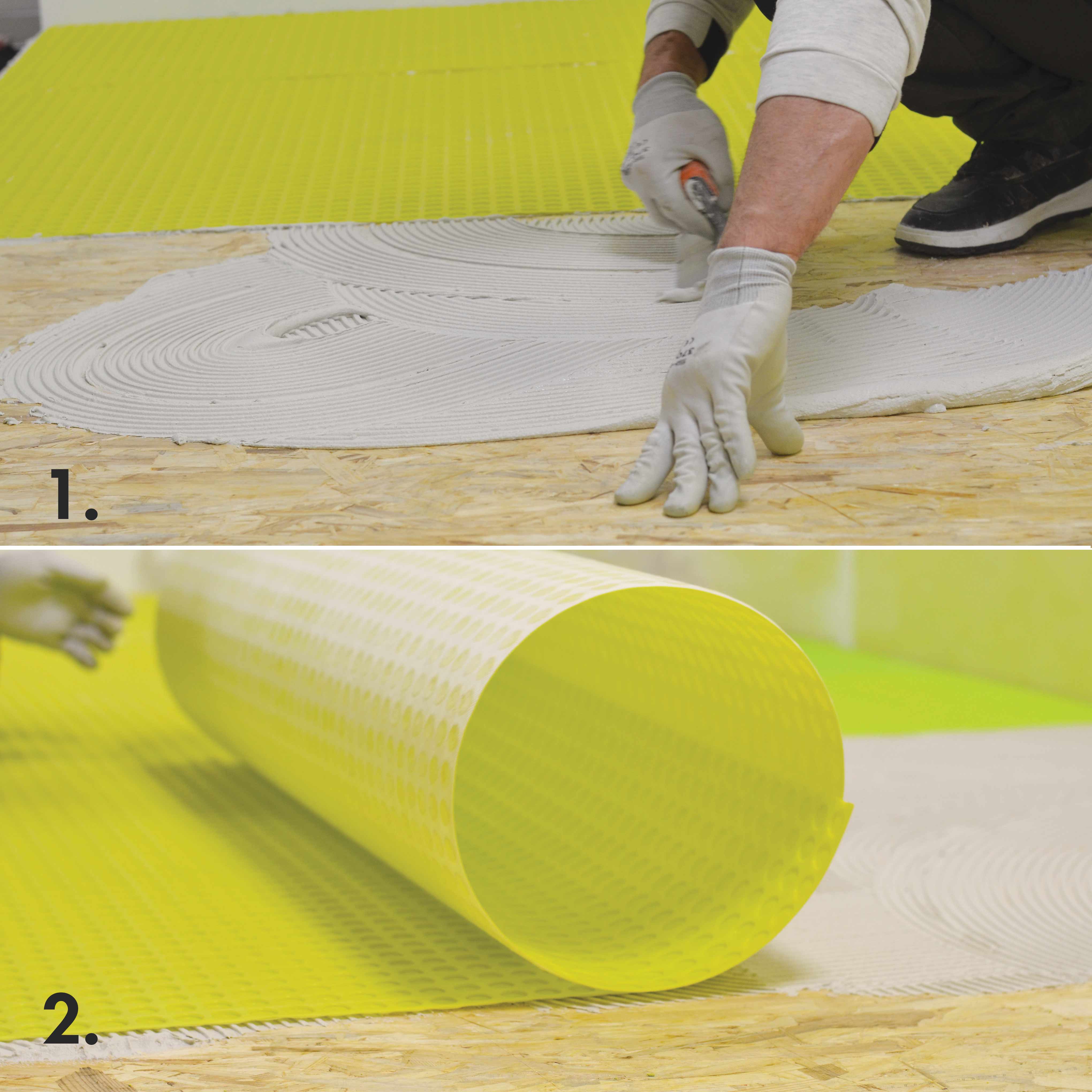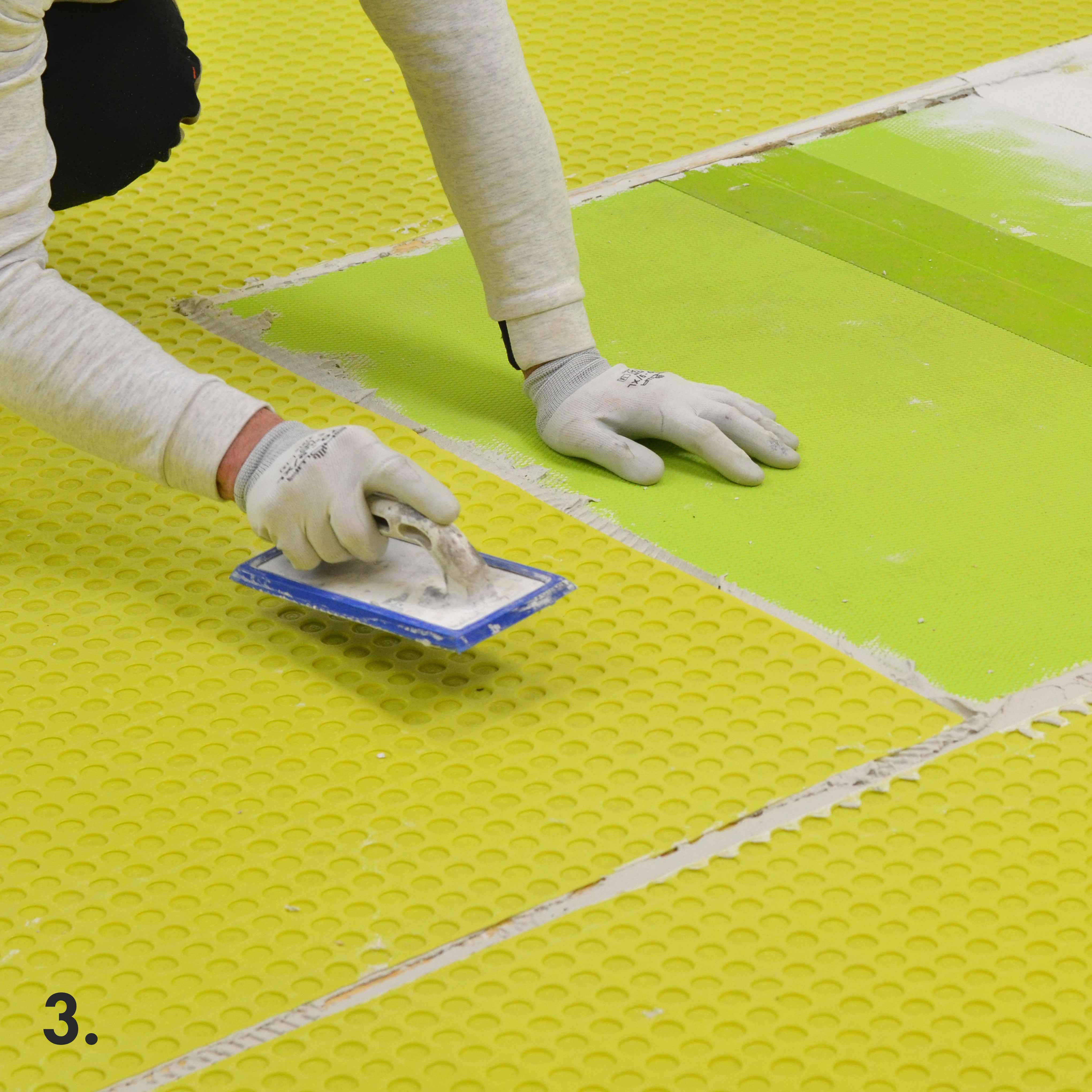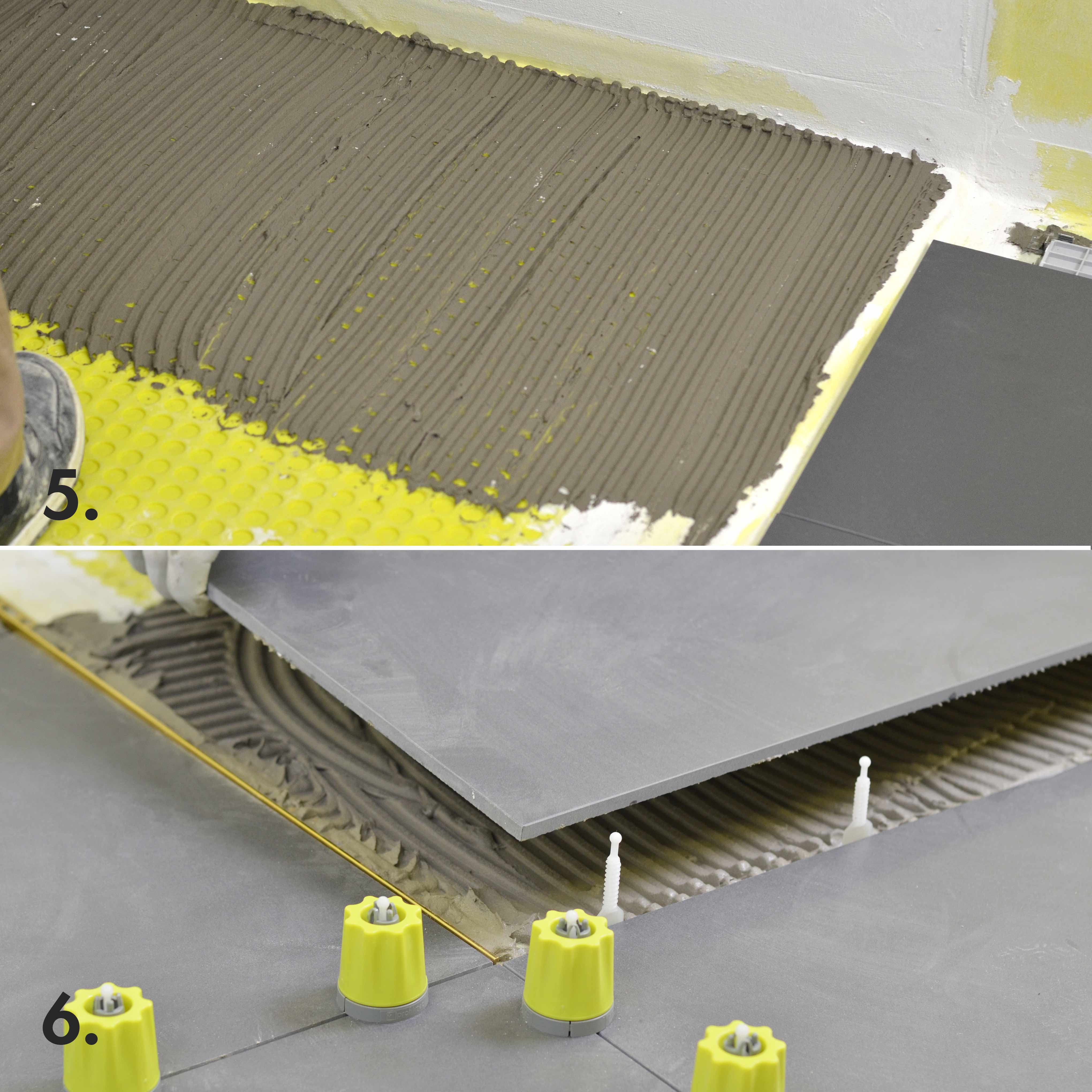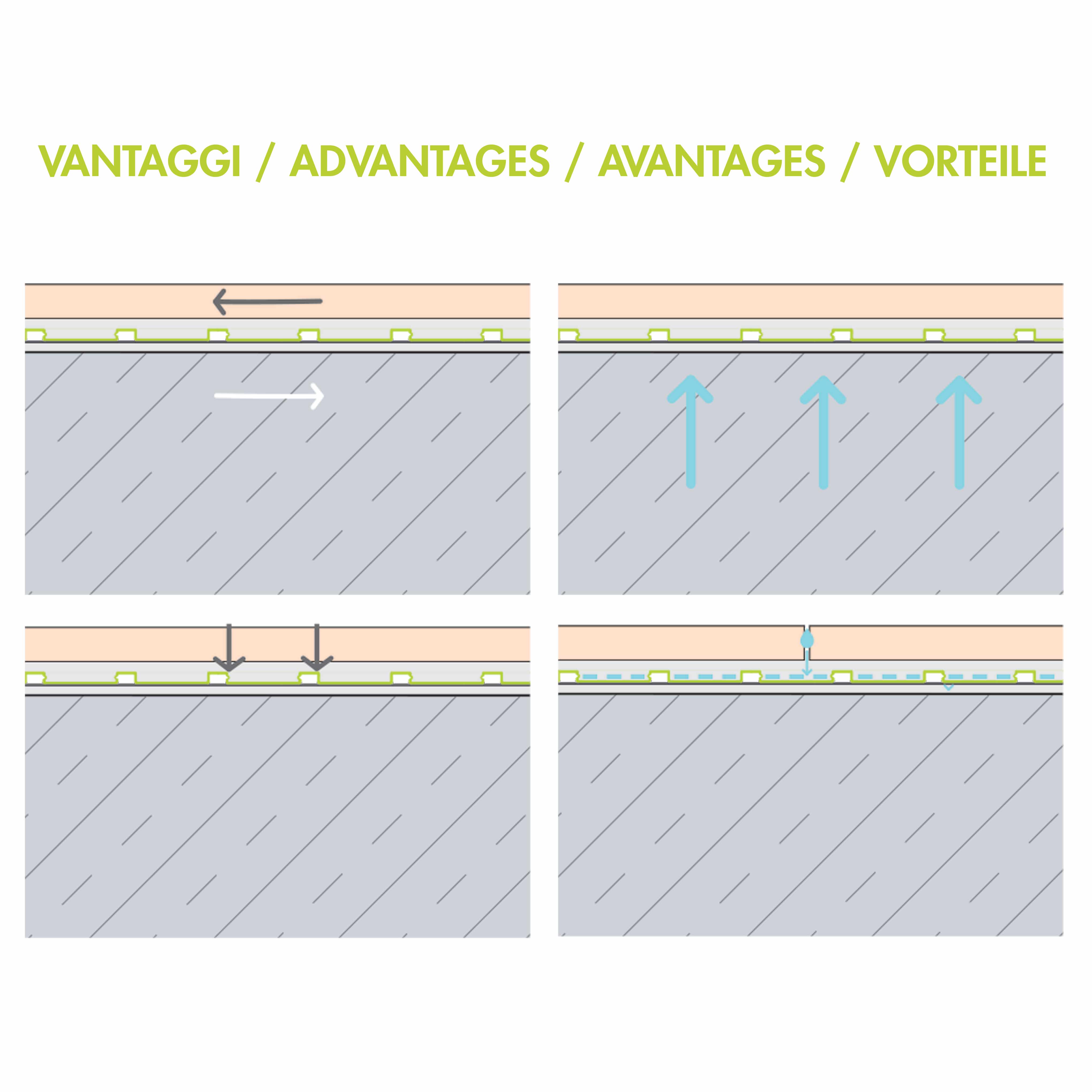 FLOORTEC uncoupling membrane
Floortec is an installation membrane for ceramic or stone tile based on uncoupling technology. It is placed between the tile and the substrate. Tile and membrane are bonded using appropriate mortar-based adhesives.
Floortec advantages
TENSION COMPENSATION. The membrane is able to compensate for differential movement in all directions, neutralizing tension between the substrate (concrete or wood structures) and tile..
VAPOR MANAGEMENT. he open cavities on the underside of the membrane provide pressure relief for moisture rising from the substrate allowing the tile flooring to be installed without waiting the usual curing time for concrete (28 days).
LOAD RESISTANCE. The circular column support structure on the surface of the membrane provides increased load resistance compared to other-shaped columns: the mortar-based adhesive on the surface of the mat fills the circular cavities forming a solid column support structure. FLOORTEC has been tested by TCNA and passed all 14 cycles (Extra-Heavy Commercial) on the Robinson Wheel Test (ASTM C627) over 19.2" wood frame construction.
WATERPROOFING*. The membrane material, HDPE (high density polyethylene), is waterproof. The top layer of the membrane blocks water infiltration, facilitating the natural water evaporation process. The mortar bed is therefore protected from water percolation and not subjected to damage due to ice formation caused by low temperatures during the winter months.
*The Floortec membrane is composed of a plastic material that is waterproof, but the complete waterproofing of the application must be carried out by using Foiltec strips and corner joints. The incorrect application of these accessories may compromise waterproofing. Additionally, please note that the FLOORTEC membrane cannot be used as a primary waterproofing system, for which a bituminous membrane or similar product must be used.
FLOORTEC membrane installation
Cut the Floortec membrane before laying. Spread the adhesive on the substrate.
Roll out the membrane.
Press to fix properly the membrane.
WATERPROOFING. Glue Foiltec waterproofing strip over the joints between the sheets of Floortec. Glue the corners.
Be sure to level the adhesive and completely fill the cylindrical cavities of the membrane with a smooth trowel and then with a suitable notched trowel.
Laying the floor. The size of the tiles, exclusively laid with the "full bed" technique, must be at least 5x5 cm. C2 type adhesive is recommended with a cement type subfloor.
FLOORTEC membrane in virgin polyethylene (PE HD)

High density polyethylene membrane, coupled with TNT (non-woven fabric) on the lower side. Thickness 3 mm on which circular shaped cones are designed which favor the gluing of the tile allowing the glue to adhere better to the membrane. Ideal for laying ceramic floors.
Related products
Select items and add them to the quotation list
Select the models to get a free quote
Select the models to get a free quote
(Reset items)
Select the product to request a quote
| | Article | Material | Finishing | Color | Installazione | H (mm) |
| --- | --- | --- | --- | --- | --- | --- |
| | | | | | | |