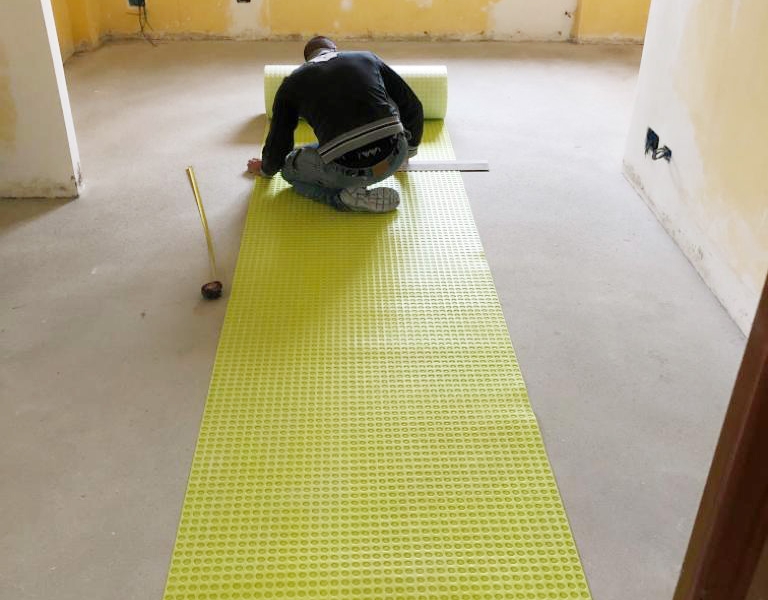 No more floor cracks with the separation layer
Realization by
Rivenditore Saline
Realization by
Rivenditore Saline
Renovation of a private house with a floor separation layer in a seismic area in Pescara
We are in Pescara in a private house, during the installation of the Floortec uncoupling membrane.
We ask our distributor Saline srl, the motivation for choosing the product and the needs to be resolved.
He explains that Pescara is a seismic risk area, therefore providing a layer that will absorb the movements of the structure is fundamental.
In Italy many regions are unfortunately subject to seismic events very frequently which often compromise structures and buildings.
Even without significant events, many regions have continuous small settlements that cause stress on the floors and structures and sometimes lead them to small breakages, cracks or cracks. An uncoupling layer is to be foreseen to prevent a future problem, because it can compensate for small movements of the substrate and avoid unpleasant cracks in the pavement.
The choice of inserting a separation layer on the floor
The customer used a large format tile 85x85 cm, very beautiful from an aesthetic point of view, to guarantee durability over time and a pose that had no problems.
Our dealer suggested to the end customer to use a separation layer between the screed and the tile by installing our Floortec uncoupling membrane: the separation layer between the screed and flooring acquires greater utility with increasing the size of the tile.
The result obtained by using the Floortec uncoupling membrane
We asked the installer if he is satisfied with the work done:
"The result is very good, it will be the time and duration of the flooring that will determine its success".
The surface covered with the Floortec membrane was 80 sqm.
The advantages of providing an uncoupling layer with Floortec are:
- The compensation of the tensions of the structure, therefore avoids the formation of cracks on the pavement
- La compensazione delle tensioni della struttura, quindi evita il formarsi di crepe sulla pavimentazione
- The release of rising damp, excellent feature both in case of doubts about drying of the existing cement screed or a saving of time in the case of a new construction as it will not be necessary to wait for the normal time of maturation of the concrete
- Greater load resistance
- In combination with the use of the Foiltec waterproof strip, it manages water infiltration