Svart Arctic Circle Hotel, vacation spot immersed in the Norwegian fiords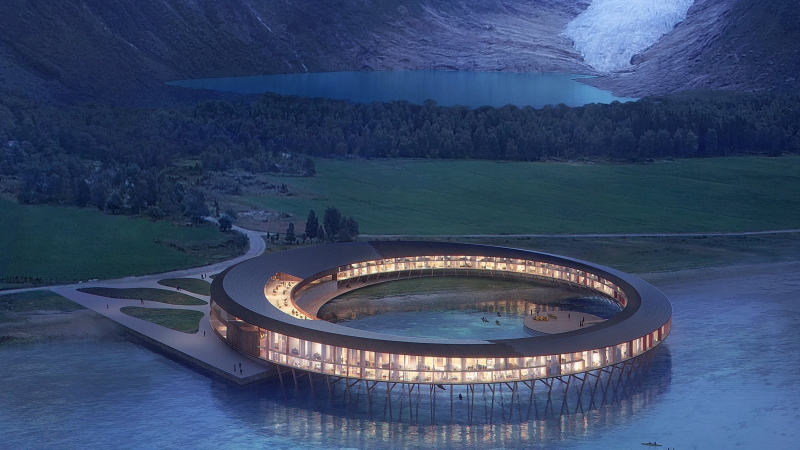 A powerhouse at the foot of the Svartisen glacier
The Arctic Circle Hotel, better known as Svart and designed by the Snøhetta architecture studio, is set to open its doors in 2012 in the arctic cold of the Norwegian landscape. The project, currently under construction, is emerging at the foot of the Svartisen glacier.
Creating a structure that respects the environment and the magical surrounding landscape was of utmost importance to the architects. The building design hence uses many materials present in the area: stone and a type of wood robust enough to withstand the diverse climatic and atmospheric conditions.
An eco-friendly hotel with low energy consumption
The hotel is designed like an enormous, floating donut inspired by "rorbue," typical fishermen dwellings which stand on long wood columns and reflect in the cold water of the Norwegian fiords. A series of photovoltaic panels will run along the circumference of the hotel in order to capture as much sunlight as possible and transform it into electricity. Vast glass panes allow a 360° views of the breathtaking nature which acts as a background to the structure. Visitors will also have the luxury of taking a walk on a boardwalk held by wood poles.
Geothermal wells will serve as heating for the building, and ventilation systems and shaded terraces will provide a natural cooling system, additionally reducing energy waste during the summer months.
The northernmost hotel in the world, almost at the north pole
Even though the geographical location may seem particularly gelid, the area is actually protected from freezing arctic winds by mountains around the hotel and by gulf currents which ensure milder winters due to warm waters coming from Mexico.
Svart will soon be the most northern hotel in the world, a modern and innovative structure which respects the integrity of the environment and allows visitors to bask in the marvels of the fiords, stunning northern lights and marvelous, pristine Norwegian panoramas.
Comments
There is no comment
What will be the color of 2020?
Eco-sustainable architecture - the green future designed by Boeri