Eco-sustainable architecture - the green future designed by Boeri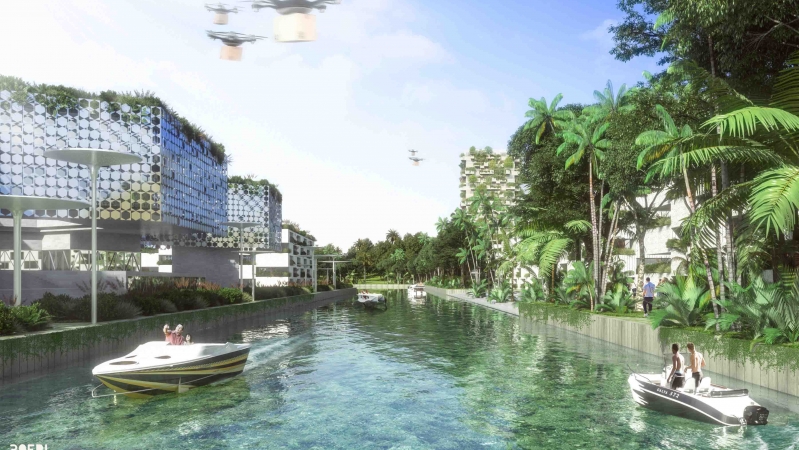 A smart forest city a stone's throw from Cancun
This Smart Forest City is set to emerge in Cancun, Mexico, with plans of occupying 557 acres and hosting 130,000 inhabitants. The numerous buildings on the site will include housing, schools, universities, research laboratories and companies renowned for their green and eco-sustainable values.
An energy self-sufficient city
The Forest City is designed as an independent organism, capable of receiving and regenerating energy through photovoltaic panels and water channels linked by an underwater system.
The focal point of the project is in fact water, which is gathered at the entrance to the city by a drainage and desalination system, and then subsequently fed into the navigable channels that cross the city. Surprisingly, the channels also function as irrigation for agricultural fields on the outer perimeter of the city.
In terms of mobility, only electric or semi-automatic cars will be able to steer through the streets; visitors will be obliged to leave their motor vehicles outside and use only authorized means of transportation inside.
The forest city designed by Boeri for an eco-sustainable future
The Smart Forest City will be built by 2026 and foresees an annual absorption of 116,000 tons of carbon dioxide due to the 7.5 million plants, trees and bushes planted on site. In this project, Boeri offers insight into what could become the world's urban future – an intelligent city that's a modern, eco-sustainable combination of technology and nature.
A small step towards a better tomorrow.
Comments
There is no comment
Svart Arctic Circle Hotel, vacation spot immersed in the Norwegian fiords
Choose PVC flooring; we'll take care of the details