The Louvre in Abu-Dhabi has been inaugurated, a triumph of light and shadow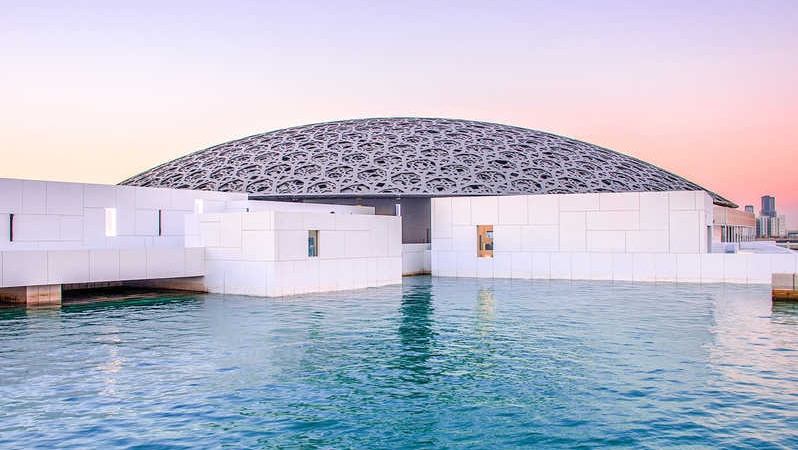 Jean Nouvel, The Abu-Dhabi Louvre architect
After years of postponements and delays, Abu Dhabi's Louvre, the long awaited oriental museum enclosed by an "enormous dome," will finally be inaugurated on the island of Saadiyat November 11th.
Designed by French architect Jean Nouvel, the building is characterized by an imposing concrete dome 180 meters in diameter, perforated with intricate patterns of stars in different sizes. Their arrangement, woven together with a unique layering of concrete, create breathtaking light effects inside the dome. In fact, depending on the season and time of day, light rays will alternate on the walls and floors of the museum, further intensifying the suggestive interior space.
Artworks from every corner of the world
The museum is composed of 23 permanent galleries housing artwork from all over the world, including masterpieces by artists like Leonardo Da Vinci, Vincent Van Gogh and Jacques-Louis David. Following the exhibits' itinerary, the visitor will discover a chronologic timeline showcasing the history of the world.
The main objective of the museum is to bridge Eastern and Western cultures, encompassing religion, customs and the many influences that have characterized two parts of the world geographically connected, yet also deeply different.
Comments
There is no comment
The Botin Museum of Contemporary Art by Renzo Piano has been inaugurated
Walt Disney Concert Hall, the Los Angeles Concert Hall designed by Frank Gehry