Furnishing a modern (trendy) bathroom with decorative aluminum strips for tiles
Decorating or renovating your home is always fun and it enables us to turn around our rooms to set our wildest imagination free; yet, there are areas in our homes where there are "restrictions". The bathroom is the area that presents the most problems, and it needs specific technical features as humidity and molds may affect it. Yet, even though it may have to comply with a few rules, the bathroom can become a modern and design environment, thanks to the use of small and simple details, like decorative strips for tiles, made in steel or aluminum in endless finishes; let's see them in this article.
What we will see in this article: (anchors to paragraphs)
- The role of decorative strips in wall coverings
- what to choose for your bathroom
- the best materials for humid environments
- installation advantages
- the role of corner profiles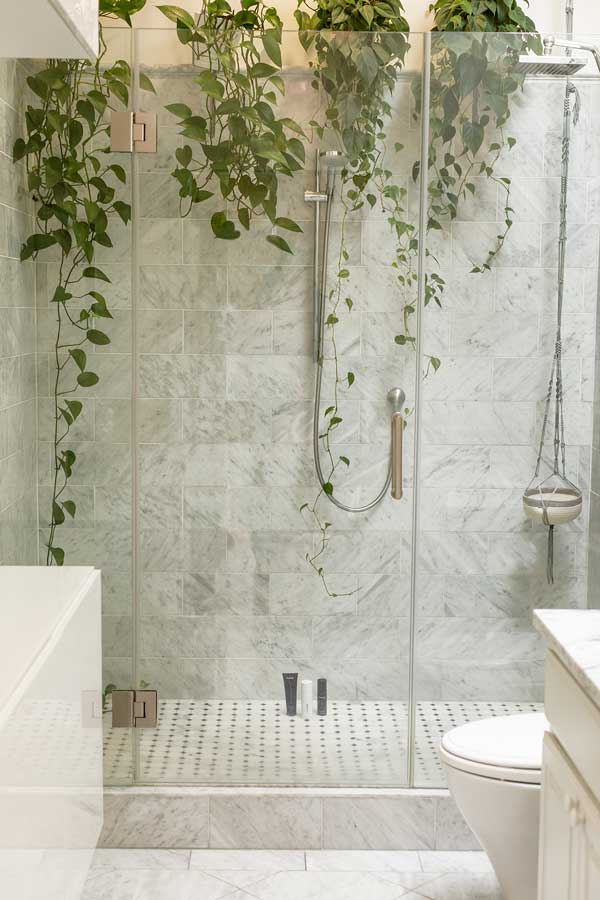 Ceramic wall coverings for a modern bathroom: the role of decorative strips
As we have said before, the bathroom may be affected by humidity and molds and thus it requires more attention in selecting its components and coverings. Many people decide to cover the bathroom walls with specific wallpapers or even with simple plaster. These solutions certainly add more style to the room but in many cases they may not be the ideal solution, especially in bathrooms with plenty of humidity. The ideal solution would be ceramic tiles.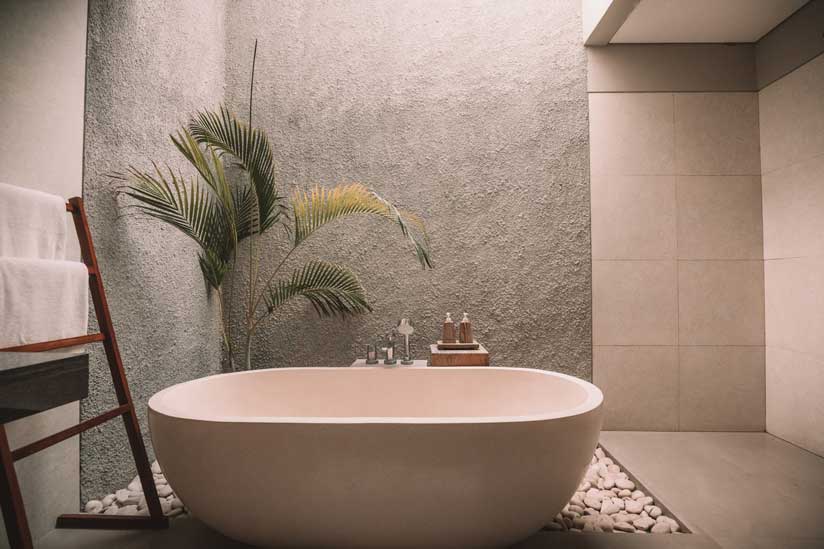 The advantages of ceramic wall coverings in a bathroom
Ceramic is a timeless material, incredibly versatile and suitable even for the most difficult environments. It is no coincidence that it is the most traditional covering for bathrooms and kitchens, where dirt and humidity hide easily. Let's see the advantages of this material:
Shock resistance: ceramic resists to shocks and scratches

Fireproof: its high resistance to heat makes it fireproof and in case of fire it does not disperse toxic substances in the environment.

Waterproof: ceramic repels water and is ideal against humidity and mold. It is used in areas where water is king, such as bathrooms, spas or swimming pools.

Hygienic: Its surface makes it easy to clean and sanitize and it is not damaged if it comes in contact with particularly harsh cleaning products.

Long-lasting: Ceramic tiles are so durable that they do not suffer any kind of wear and tear over time.

Customizable: the world of ceramics is so wide that it is possible to choose among endless shapes, thicknesses, textures and colors.
Decorative strips as a design solution in the bathroom
If you decide to cover your bathroom with ceramic tiles, and would like to offer a touch of lights and design to the environment, a refined solution is the use of decorative strips. These profiles are easy to install and are usually placed vertically or horizontally between tiles. The materials used are resistant to water and humidity, so you may choose among several materials and finishes according to the effect you want to achieve.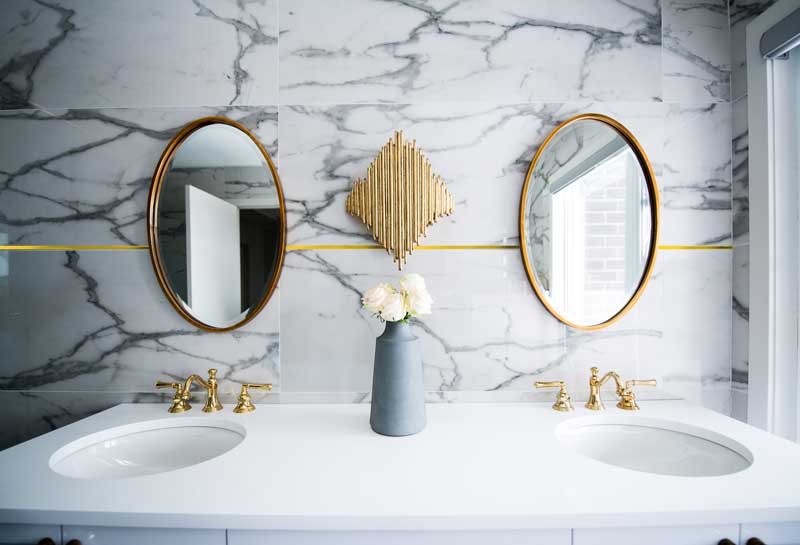 Stainless steel is undoubtedly the best choice when it comes to elements in contact with humid environments, but there is another material offering excellent performance and a wider range of finishes and colors. According to the effect you're going for, you may choose different models.
Let's see some:
Tone-on-tone or similar tones: If you prefer to go for an understated room, with colors that do not clash but rather create a smooth continuity effect, your choice of decorative strips should go on something in line with the style of the tiles that are going to be installed. For instance, a bathroom with light tiles could be combined with a strip in the soft colors of silver, such as Listec LI 10.

Contrast: if you want to be daring and use the strips as highlights, giving the room a very modern look, you may choose a color in clear contrast with that of the tiles that will be installed. There are several finishes and shades to choose from, such as Listec LI 20.

Glamour: For a more sophisticated style, very effective when correctly combined and in the right environment, consider glittered strips in Listec LI 15's classic colors, or Listec LI 10's more understated tones.
The market offers endless solutions, and Listec strips are also available in Stainless Steel, such as Listec LI 20 or Listec LI 22.
When you say bathroom, you say humidity, which is why the different elements in the room shall have good anti-corrosion properties. As for metal elements, like the profiles we've mentioned before, two elements can be considered top-choice.
Let's see their features:
Stainless steel: it is the most widely used material in humid environments where water or condensation may stagnate. Steel is available in several compositions according to its alloy (which makes it more or less resistant), we have AISI 304, AISI 316 and AISI 403 steels, the higher the number, the greater the corrosion resistance. Among its features, we find affordability, physical and chemical resistance, and high workability.

Aluminum: it is also suitable in humid environments as it has high corrosion resistance and its lightness makes it easy to work with in terms of finishes and colors, which are more difficult to apply to steel.

The installation of decorative strips is pretty easy. They are installed by glueing between one tile and another, during their installation. . Strips are available in several shapes and colors, let's see some:
Listec LI decorative strips for modern bathrooms
Decorative strips are perfect elements to add a touch of design to your bathroom, be they understated or immediately visible, they are easy to install and the market offers countless solutions in terms of materials, finishes and colors.
Let's delve into the wide range of Listec LI:

DIY profiles for modern bathrooms

A valid alternative to Listec decorative strips can be DIY profiles, which, even though in different shapes, can create countless effects, from a simple delicate line to a channel to insert LED components.
L-, C- or H-shaped DIY profiles: These profiles are easy to install and can be installed on both sides, thus creating either an effect similar to classic decorative strips, or forming a small channel in which you may easily install a LED strip. LED light mixed with the delicate metal finishes of the profiles may generate relaxing and evocative environments, ideal for a stylish modern bathroom.
Design hanger for a functional and fashionable bathroom

Among decorative profiles, APPENDO, the wall-integrated bathroom hanger, cannot go unmentioned. This element, which we have already mentioned here,
is a modern decorative vertical strip which, thanks to its specific shape, can be used as a hanger, besides as a decorative element. Available in several finishes, this profile can create sophisticated modern environments and was designed to place the hanger hook at the height you prefer.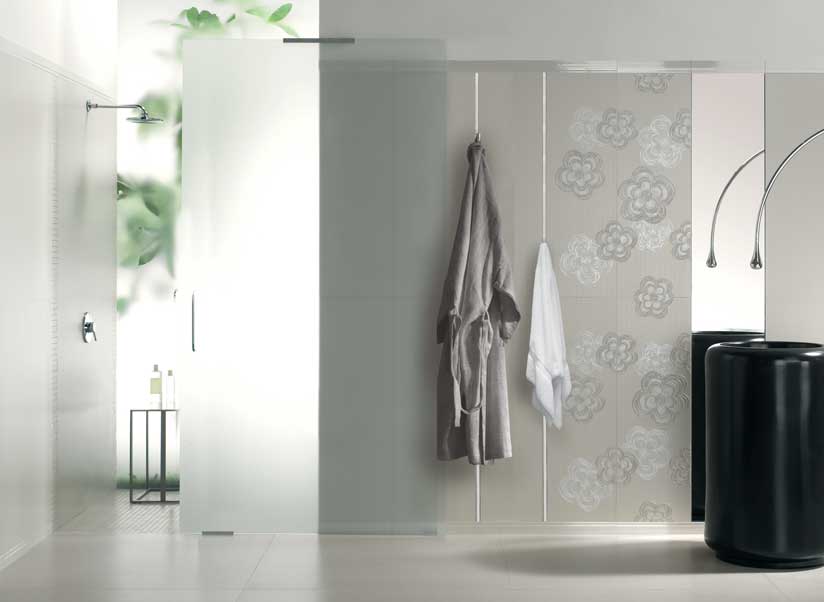 Strips as a decorative element for floor-level showers
Decorative strips can be used in a wide range of applications, including floor-level shower trays. Their simple square shape makes them easy to install along the angle between the floor and the wall and is the perfect finish to give the shower a unique touch of class. To learn more about installing floor-level showers, read this article.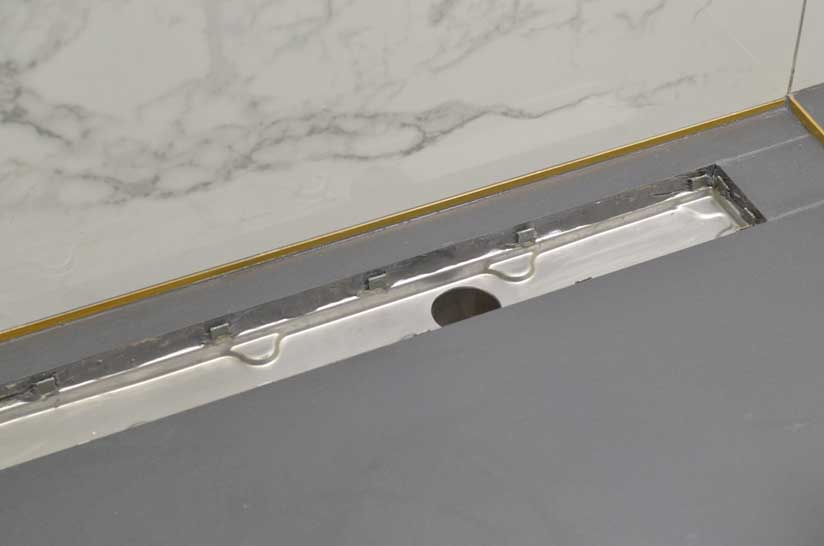 In a bathroom, besides being decorative elements, profiles may also act as protection elements. Tiles installed in the corners of walls can experience shocks that may chip or damage their surface. To avoid such damage, corner profiles are the right solution, as they offer excellent protection while preserving the sides of the tile. The wide range of finishes and colors makes them easy to combine with any type of covering and furniture.
You may find more information in this article or in our catalog .

If you're looking for specific information or need help in your choice or would like to get in touch with one of our resellers, contact us or write us and we'll get back to you asap!
Comments
There is no comment
The difference between floor and structural expansion joints