Corner profiles and corner edges for tiles, unique installation solutions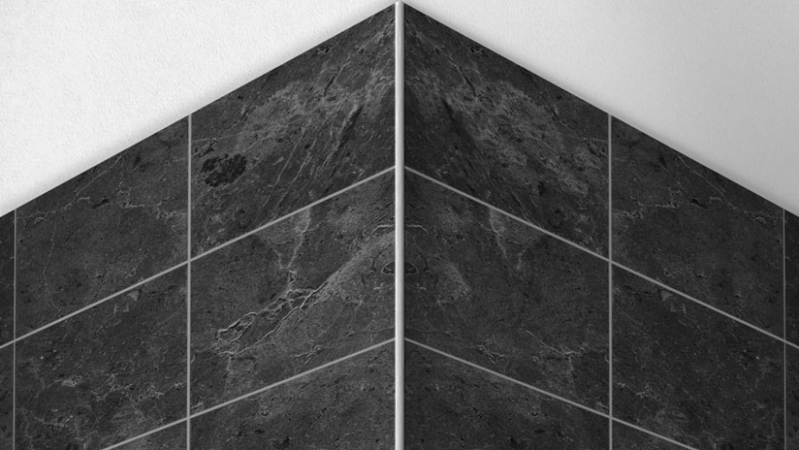 Corner profiles and corner edges for tiles are the solutions that make a difference when you design or renovate a building, be it for home, industrial or commercial use. Among all decorative or functional installation accessories available in architecture, corner pieces are among the most used as they blend beauty and elegance with functionality and practicality. Such features are essential when it comes to profiles.
There are hundreds of different solutions to suit any kind of need. From fast installation solutions, such as corner edge profiles, to dynamic and innovative ones like corner profiles.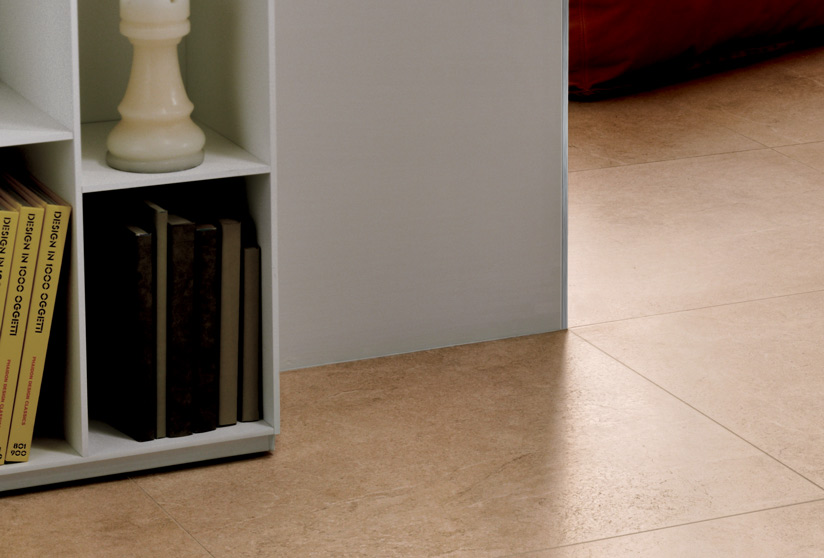 How to pick the right corner profile for your ceramic tiles
Choosing the perfect corner profile depends indeed on personal needs, but also on the structure of the building in which the profile will be installed.
This is why there are so many different models of corner profiles and corner edges: to fulfill every need, according to their type.
They belong to a large category which, to be understood correctly, shall be divided into subgroups:
External corner profiles: amazing visual solutions, to avoid the 45° cut of ceramic tiles and hide their imperfections, they also cover and protect sharp edges, making the transition between two different perpendicular walls smoother;
Internal corner profiles: mainly used in bathroom areas to complete vertically the installations of junctions between flooring and covering.
Corner profiles for the junction between wall and floor: also known as hygienic coves, they are installed in bathroom areas to avoid dust and dirt piling up between flooring and covering, they are also used to hide or replace silicon caulks, which inevitably turn yellow over time.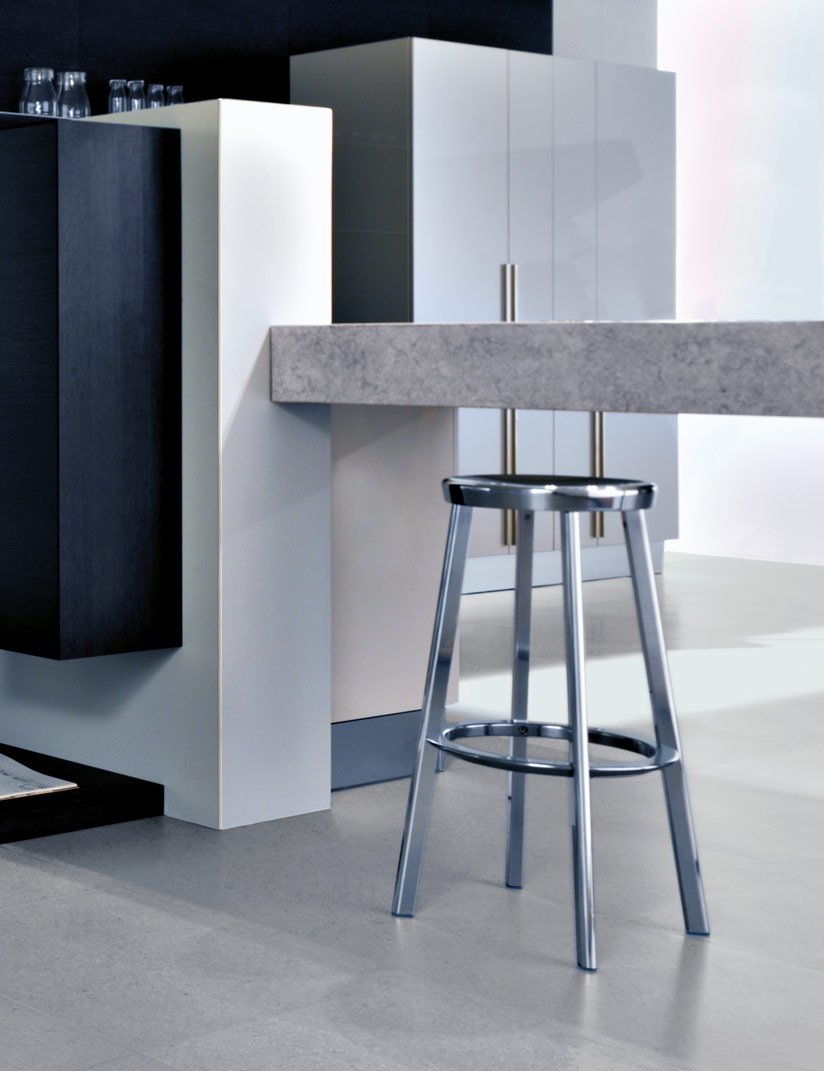 The Roundjolly RJ corner profile for tiles with ivory finish in a modern bar
External corner profiles for tiles installation
External corner profiles were created to protect the junction between two vertical walls covered in ceramic. Sharp edges between coverings could be dangerous for the surrounding environment; installing a profile, besides improving the overall aesthetics, joins two walls smoothing the external corner, thanks to fully or partially rounded surfaces, according to the profile section. Shapes and sizes guarantee a wide range of choices according to your taste and needs. The color combination is another aspect to consider. Picking a material over another allows a distinction between aesthetic needs and functional ones, thus making the choice easier.
Shelf with Squarejolly SJ corner profile and decorative elements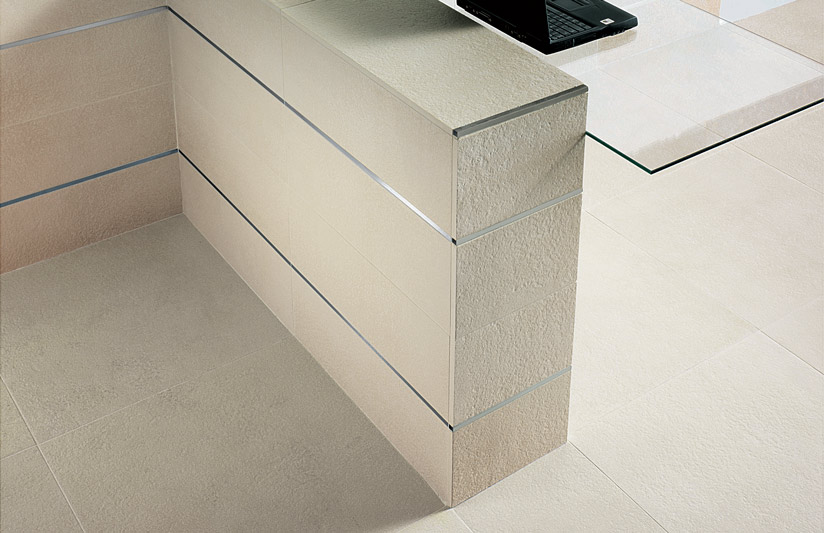 Corner profile types
Selecting the shape of a corner profile is mainly a visual matter, a thin limited surface may better suit living rooms in modern and minimalist environments, whereas a more elegant rounded section may better fit commercial areas and large spaces where the profile finish highlights their details. Let's see the main types of corner profiles:
Rounded corner profiles: their fully rounded surface joins two walls smoothly. For instance, take Roundjolly RJ, a multipurpose profile with a very simple structure, but widely used as a corner profile. It offers one of the widest selections of finishes on the market, thanks to its steel, aluminum, and synthetic resin versions.
Square corner profiles: categories with a less pronounced - and therefore more technical and square - curvature, but at the same time functionally safe. These are the features of Squarejolly SJ, a multipurpose profile offering invisible installations, like the previous one. It is available in a wide range of decorative finishes in line with the current architectural trends.
The Squarejolly SJ square corner profile in stainless steel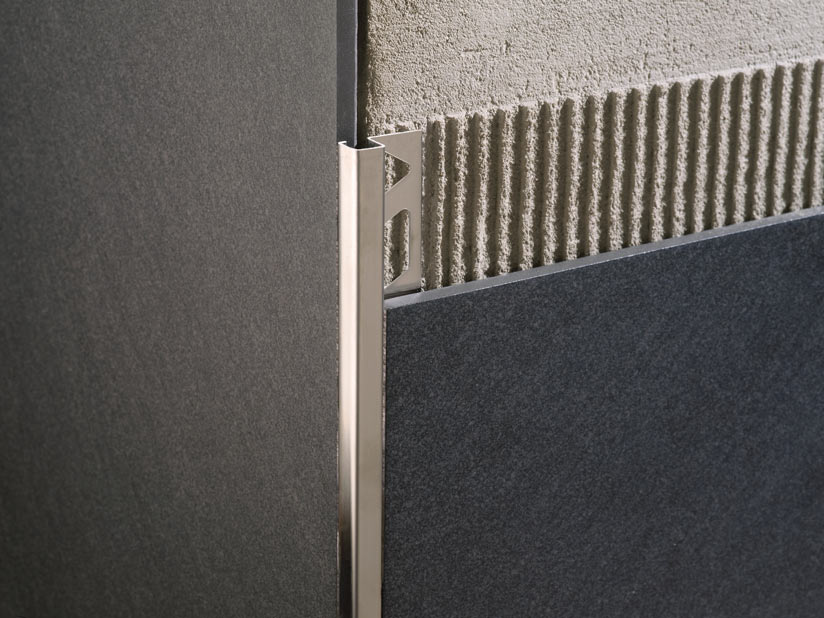 Corner profile materials
What makes the technical difference in a profile is its material, their different natural properties determine what is the most suitable environment for the installation of a corner profile, to prevent it from becoming damaged over time. Thermal conditions, humidity, exposure to water and chemicals determine their correct installation. Let's see some features:
Stainless steel corner profiles: a certainly durable material, which may be installed in areas with a high humidity rate, such as bathrooms and swimming pools, it is water- and chemicals-resistant. It undergoes sophisticated finishing processes such as polishing, sanding, and brushing, to increase its visual value and impact. An example? Trimtec TR, very thin and minimalist, has a considerable visual impact when contrasted with light-colored coverings.
Anodized aluminum corner profiles: this material is easier to handle as it is cut through precise extrusion processes, unlike steel, whose shapes are obtained with a press brake. Aluminum corner profiles sections are accurate in every detail, which enriches the external edges of a building with complex and refined shapes in a very strong material, even though not as strong as steel.
Synthetic resin corner profiles: economical and inevitably less durable solutions compared with the previous ones, their visual result is pretty much the same, thanks to the quality of their finishes, though their duration will never compete with steel and aluminum. It is a light-weight material that can receive specific and particular finishes for those looking for very special colors. Colors such as those of Roundjolly RJE, a rounded surface profile available in different colors, among which its polished lacquered versions.
The Kerajolly KJ thin aluminum corner profile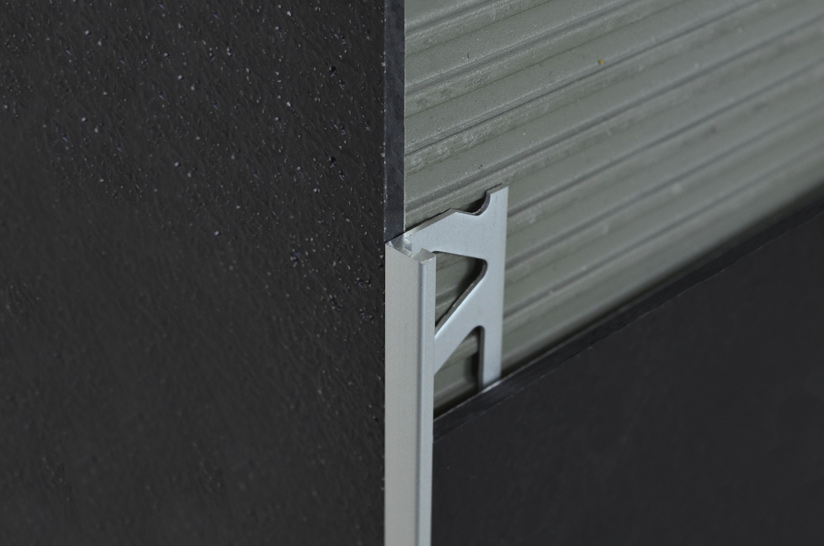 How to pick more easily the corner profiles for tiles
As there are so many models available, often it is not easy to pick the correct corner profile, and you need to understand the ideal solution for your needs.
First, you need to assess the height of your wall tiles, which shall be compatible with the level of the profile section, the accuracy of this step is very important to avoid unpleasant surprises once the project is over.
Another aspect to consider is the installation area, as we have seen that not all thermal and environmental conditions are suited for the profiles' materials, thus the ideal solution requires a correct balance between durability and aesthetics.
The artistic and design features of the corner profiles' shapes shall not be underestimated, as installing a profile whose finish is not consistent with the surrounding environment may determine a sharp contrast with the style of the building. Although the profile is a small decorative element, choosing the right finish can make a difference.
The Squarejolly SJ corner profile for tiles in a modern kitchen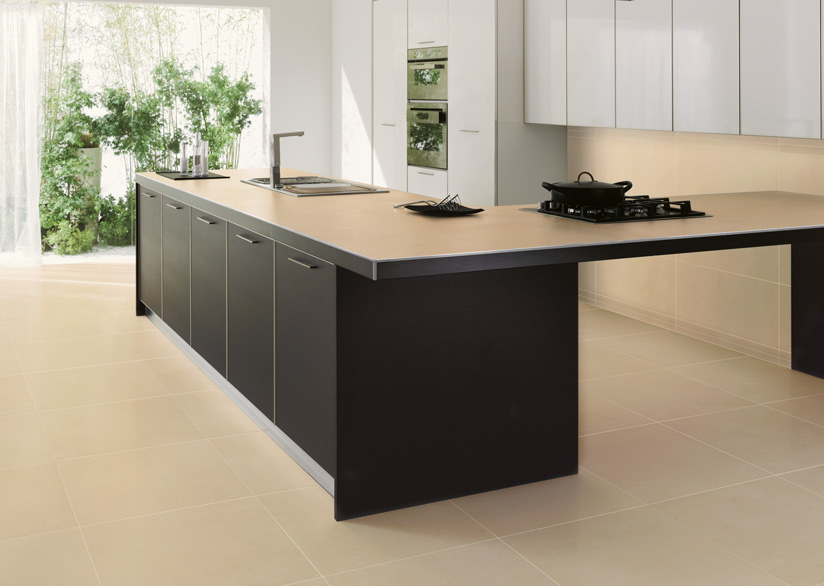 Internal corner profiles for tiles installation
Internal corner profiles for coverings are mainly used in bathroom areas, as they match junctions between walls and floors, completing the installation vertically. Sanitec SB 12, for instance, is an anodized aluminum profile, also available in the chrome finish. Its shape is quite original as, once it is installed, its surface creates a pleasant 45° junction effect between the two walls, which makes it easier to clean.
During the construction or renovation of a bathroom, the best solution would be to carry out the installation of the coverings at the same time as that of the floorings, so as to choose whether to use hygienic coves for inner corners on the floor in combination with the coverings' corner profiles.
The Sanitec SB 12 aluminum internal corner profile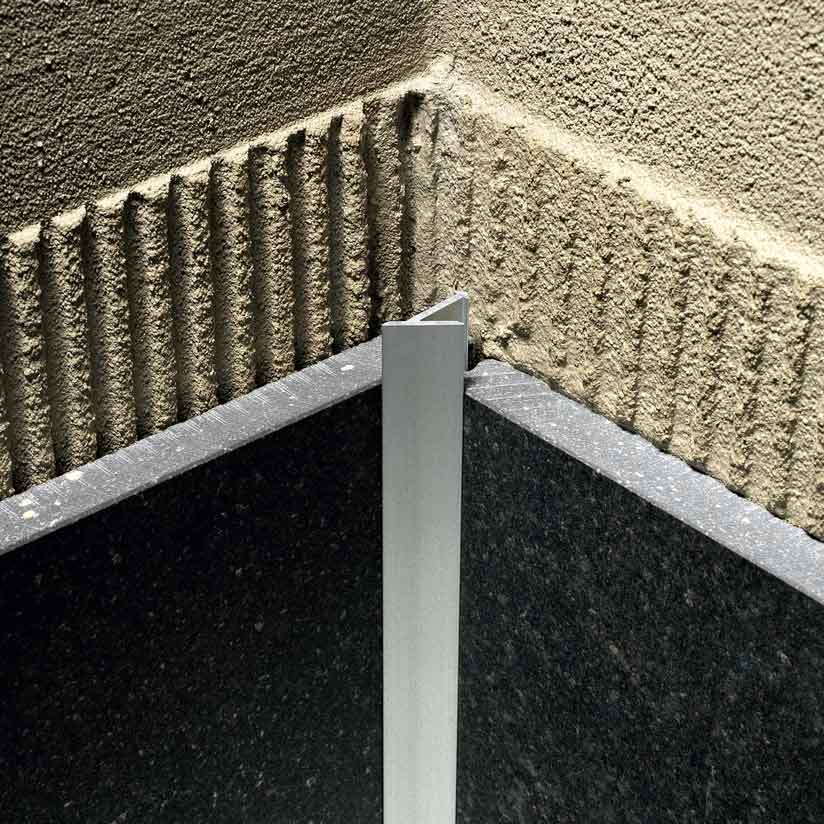 Transition corner profile between wall and floor
Also known as hygienic coves, transition corner profiles are often used to comply with hygiene and health standards for public places such as restrooms, food industries, and swimming pools. They simplify cleaning internal corners, where usually dirt and germs accumulate. The use of a hygienic cove facilitates the transition between floor and covering through curved surfaces, thus cleaning will be faster and more effective. It is important to distinguish between their two different applications, before and after tiles installation. The Sanitec line offers both solutions: Sanitec SB in stainless steel shall be installed between floor and wall during installation. It is compatible with internal and external corner junctions, which can be useful according to the type of environment and a three-way intersection for the vertical completion of the installation. Sanitec SB 20 can be easily applied after the installation, thanks to a strong adhesive strip on the back of its surface, it is made of aluminum undergoing anodization processes that increase its resistance.
Sanitec SB 20 hygienic cove, one of the transition corner profiles between wall and floor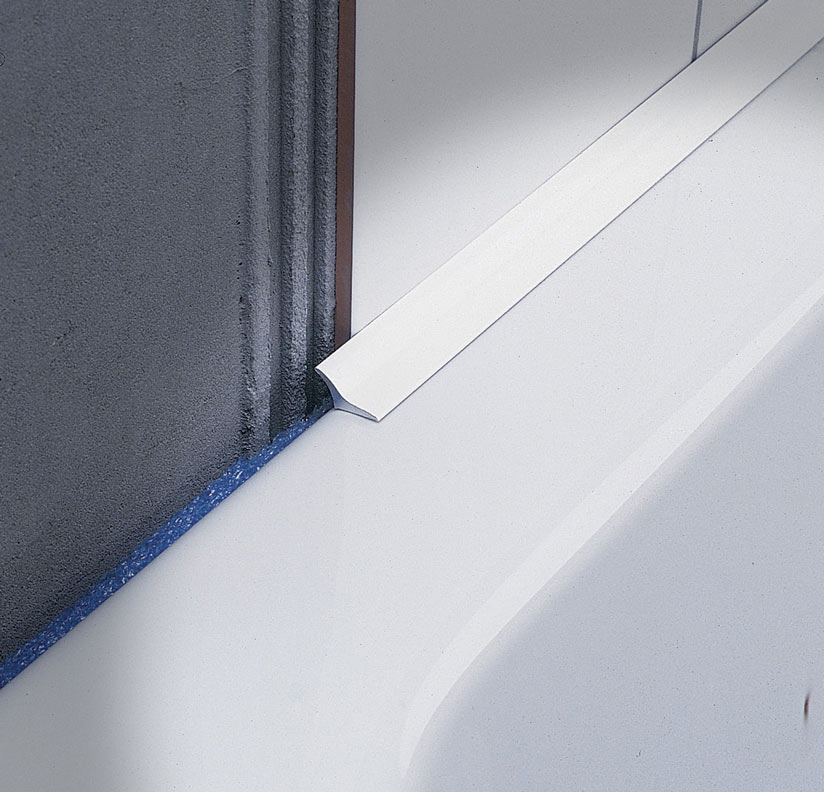 Corner end profile for bathrooms
Among corner profiles, we find end profiles, whose main application is in the bathroom area. They are used when the tiled surface of the coverings does not cover completely the wall underneath, thus creating a sort of step, often hidden by end profiles. These profiles thus serve a physical protective function, from the tile's sharp edge, and a visual protective function, from the defects inevitably created by the tile's cutting. Trialjolly TJ can be a suitable profile to use in these situations, its 45° angled shape makes the transition between tiles and wall very smooth and decorative while carrying out the above-mentioned functions.
Trialjolly TJ corner end profile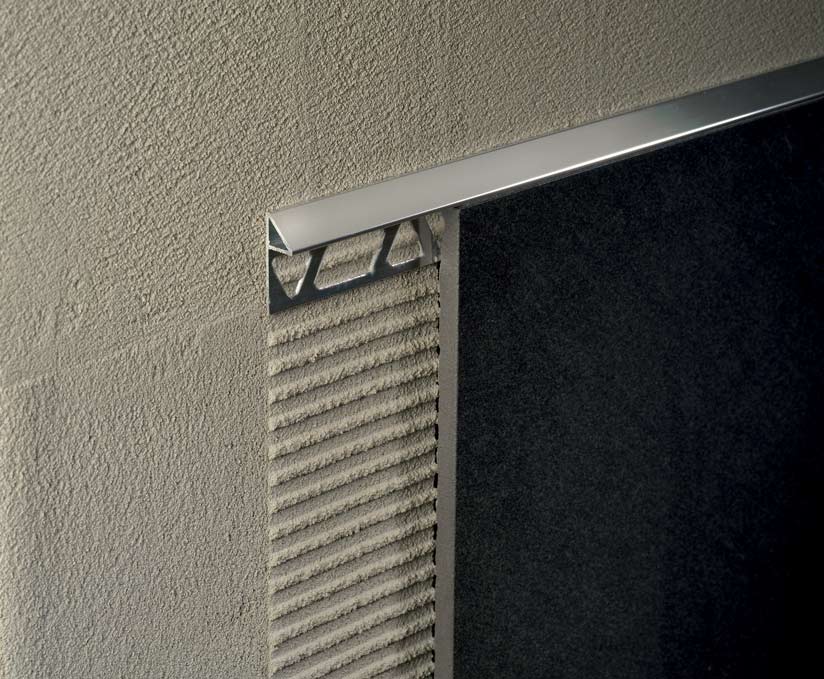 Differences between corner edges and corner profiles
In the world of profiles, besides the word "corner profiles", another very common term is "corner edges". What is the difference?
Corner profiles belong to a large category including all the different types of profiles mentioned so far, aimed at the protection and transition between two walls. Corner edges have the very same functions, but the difference is they are applied after the installation. This makes them perfect for transitions between ceramic surfaces, but also between different materials. Like surfaces, also corner edges can have different features. They are made of aluminum, brass, steel, synthetic resin, and PVC. Their size is markedly larger than your usual external corner profiles, thus the protected area is larger, too. This makes them suitable for commercial or hospital use, where protection and risk reduction are key.
Among the most popular solutions, we see Keracorner CO, available in several materials and finishes, which can be applied to the covering with glue or adhesive, according to the material composition.
Wallprotection WA has a lower visual impact, as it is made of synthetic resin, but its rubber insert makes it one of the safest of the whole range.
Keracorner CO stainless steel corner edge
Which corner profiles may be used in healthcare settings?
When we talk about profiles for healthcare settings, safety and functionality certainly outrank aesthetics. But what if the two aspects could be combined? This is what happens with PVC and synthetic resin profiles, very popular solutions in healthcare settings and areas attended by children. They present the amazing feature of shock absorption, thus further reducing the risk of accidents and injuries.
There are several finishes available, and very original, too, thanks to the decoration processes mainly linked to the material's surface. The visual aspect of PVC corner profiles is very close to anodized aluminum alternatives, even though it inevitably has some constraints. The shine given by some aluminum finishes will never be matched by a plastic surface.
PVC and synthetic resin are still viable alternatives, at a lower cost than metal versions, yet safe and effective.
Wallprotection WA - the synthetic resin corner edge for healthcare settings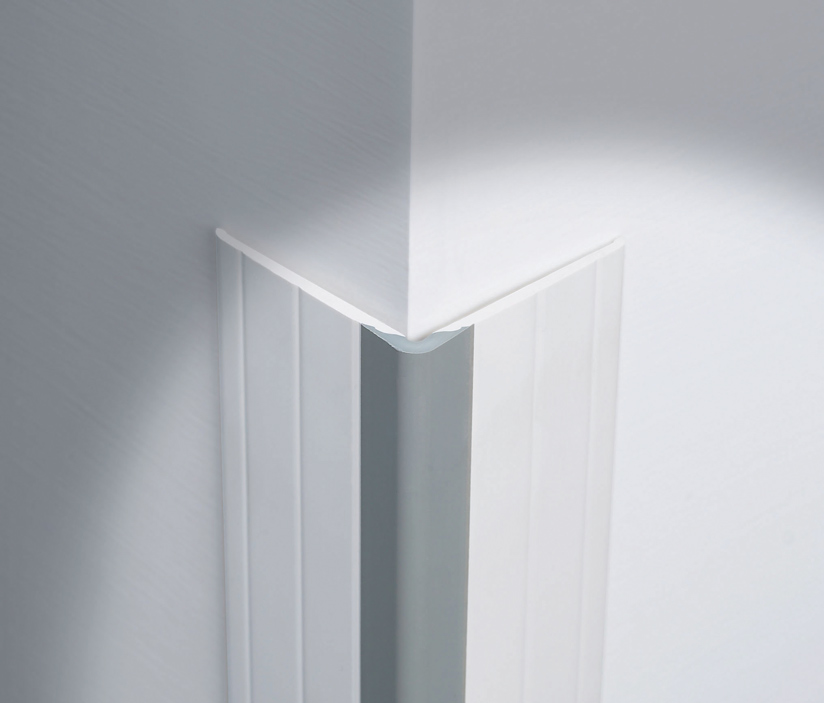 PVC corner profile types
Among several solutions, PVC and synthetic resin corner profiles offer a wide range of choice, thanks to their different shapes. Among the most popular alternatives, we see Roundjolly RJS: it includes a classic fully rounded section, but its added value is given by its sophisticated marble-like finishes. It may be thus paired with high-quality tiles with original decorations and be almost imperceptible, fully matching the surrounding colors. The continuity it creates between coverings of the same type is a remarkable added value for this tile corner profile.
The material's properties make the PVC versions suitable also for commercial and industrial settings, especially corner edges in synthetic resin with similar characteristics. The Wallprotection range is the perfect example.
Roundjolly RJS PVC corner profile
Now you know everything there is to know about wall corner profiles, but this is just a small part of our whole range: would you like to know more? Click here.
Not sure which is the right corner profile for you? Get in touch with us and we will help you find the ideal corner profile for your project.
Comments
There is no comment
Profiles for indoor staircases covered with laminate, how to choose them and how to lay them
Wooden, PVC or aluminum baseboards? It shall suit your environment