Profiles for indoor staircases covered with laminate, how to choose them and how to lay them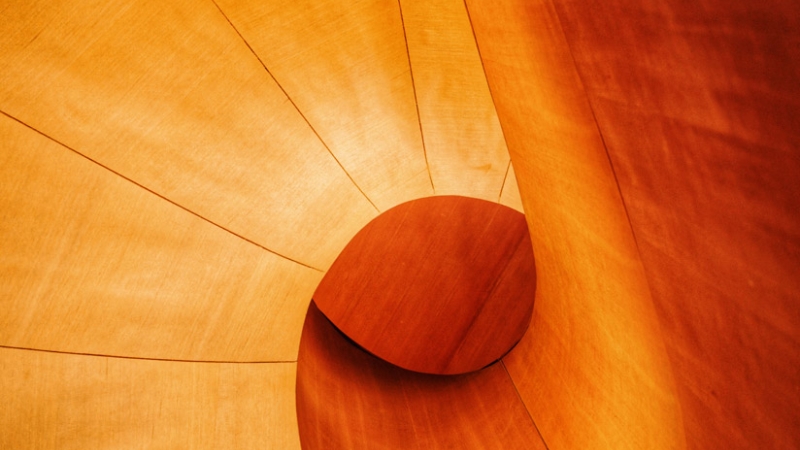 Before trying your hand at the world of profiles for steps made of laminate, we need to understand and highlight the characteristics and advantages of this type of flooring.
Laminate step covering is a solution that adapts to a multitude of contexts and structural conditions. This is because it can be used both in the renovation of existing staircases and for building steps from scratch.
The adaptability of this material allows the application of additional accessories such as nosing and anti-slip profiles, end caps and even expansion joints to ensure the natural movement of the wood and avoid breakage.
Profile solutions for laminate clad staircases
Most stair profiles are suitable for different types of materials. The aspect that differentiates them from each other is mainly related to the height of the area where the tile or in this case the laminate slat will be inserted. The slats have a thickness ranging from about 6 to 10 mm, therefore it will be necessary to choose a profile that complies with that measuring margin. However, there are other features that allow you to distinguish one step profile from another and they are:
shape, application method (before or after installation) and material (more or less resistant), according to which different application cases are chosen.
Step profiles for indoor domestic environments are subject to frequent footfalls, so installation must comply with the following standards:
Aesthetics: the elegance of the shape of the profile and the finish should best match the aesthetic value of the laminate covering;
Resistance: Depending on the material, the profile must be resistant to impact and footfall, the same applies to laminate floors, especially high-quality models that are durable and robust. For this very reason, they are often laid in commercial areas subject to large flows of people;
Functional: the step profile must always perform its primary function, preventing falls, all this is guaranteed thanks to non-slip strips or knurled surfaces that provide the correct grip.

Commercial environment with laminate steps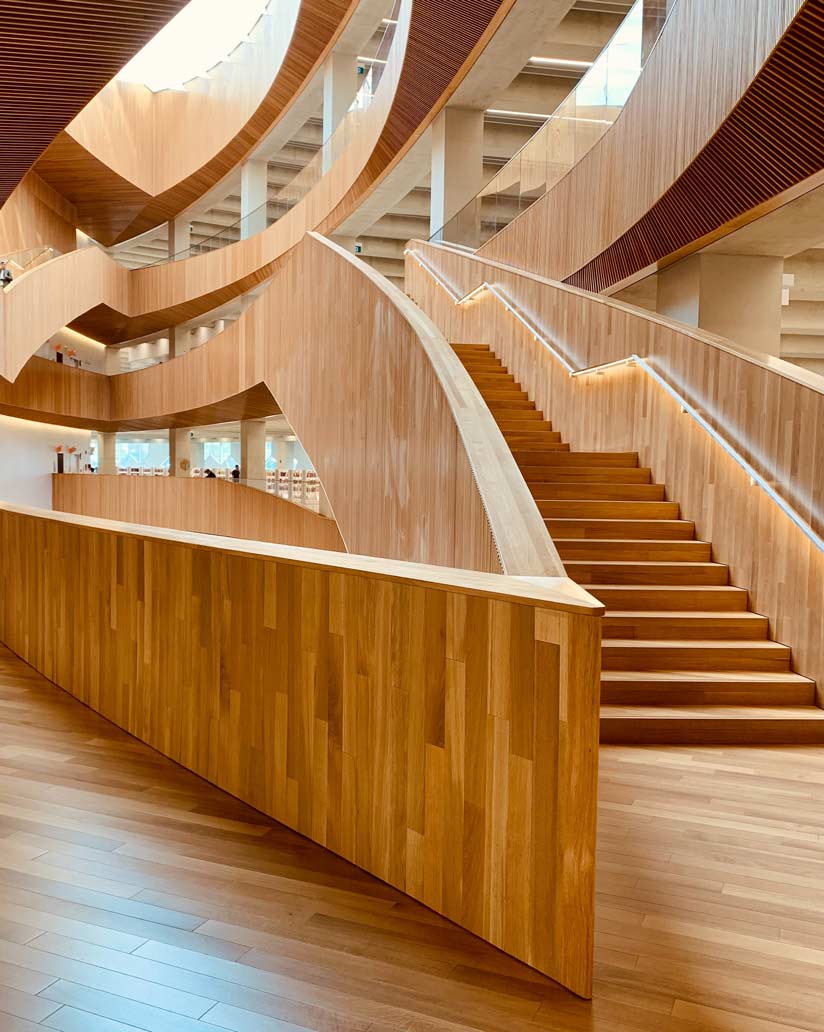 Characteristics of end profiles for steps
The step ends belong to a category of profiles that must be applied during the laying of the laminate for reasons of greater strength and stability. Their characteristics make them suitable for use during construction or renovation of the building. The gluing method under the laminate prevents more than half of the profile section from being visible because it is embedded in the floor. The section that remains visible, on the other hand, must present characteristics of high aesthetic value to be given to the entire staircase and this depends on the shape and the material. The Stairtec FL profile, for example, has a sinuous and elegant structure that creates a pleasant effect of continuity with the wood streaks.
Internal staircase solutions with end profiles for steps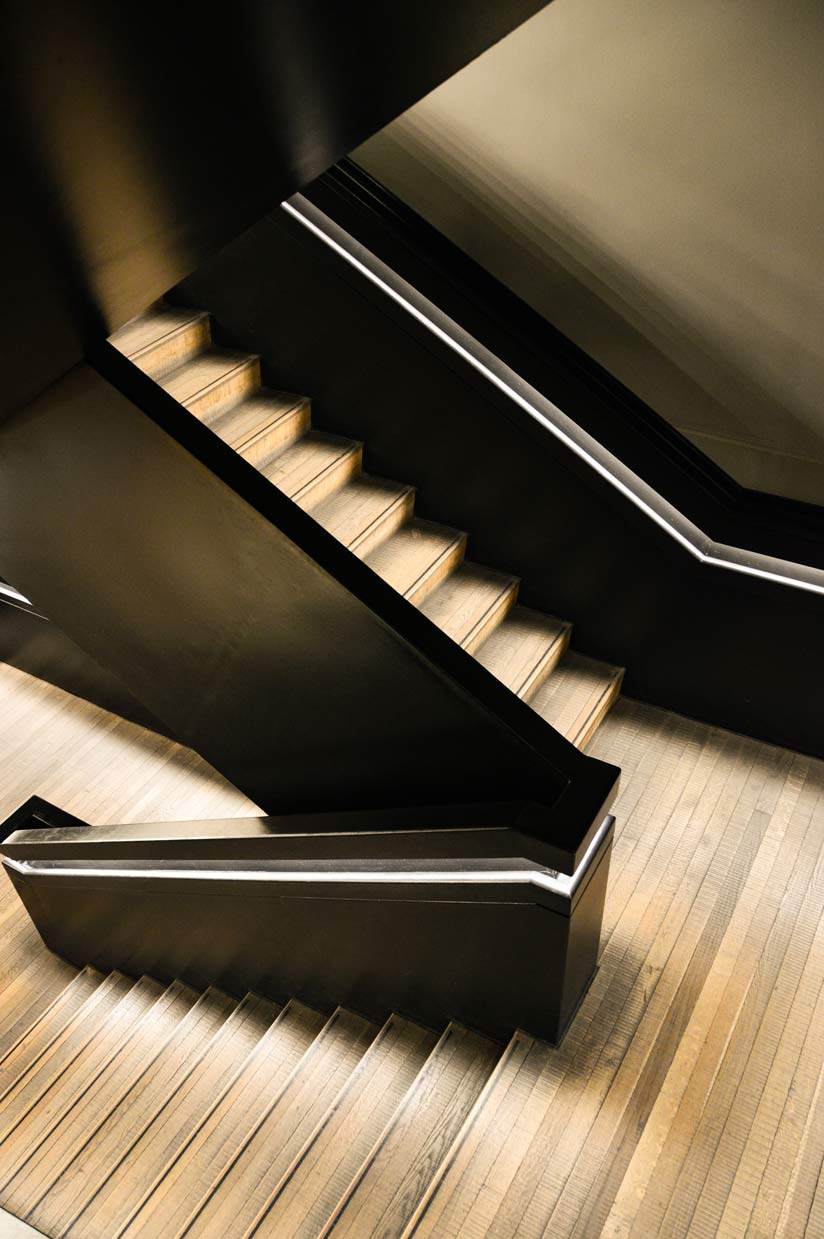 Characteristics of step guard profiles
Edge protection profiles for steps are ideal for covering laminate staircases, they are named as such because they are placed on the external corner between the tread and the riser, acting as protection from sharp edges of the stairs. In most cases the nosing profiles do not need to be applied during installation, so they are much easier to install because they can be glued to the floor at any time. Despite this, some models, being composed of a base and a covering profile, are employed only during the construction or renovation stages of a building. Like the Multiclip CLS system, designed exclusively for laminate floors. The wide range of wood effect finishes available for this aluminium profile make it perfect and compatible with every shade and tone.
The same applies to Stairtec SL, an elegant stair nosing that is easy to apply after installation and rich in wood-effect aluminium finishes.

Stairtec SL edge protection profiles for laminate covered steps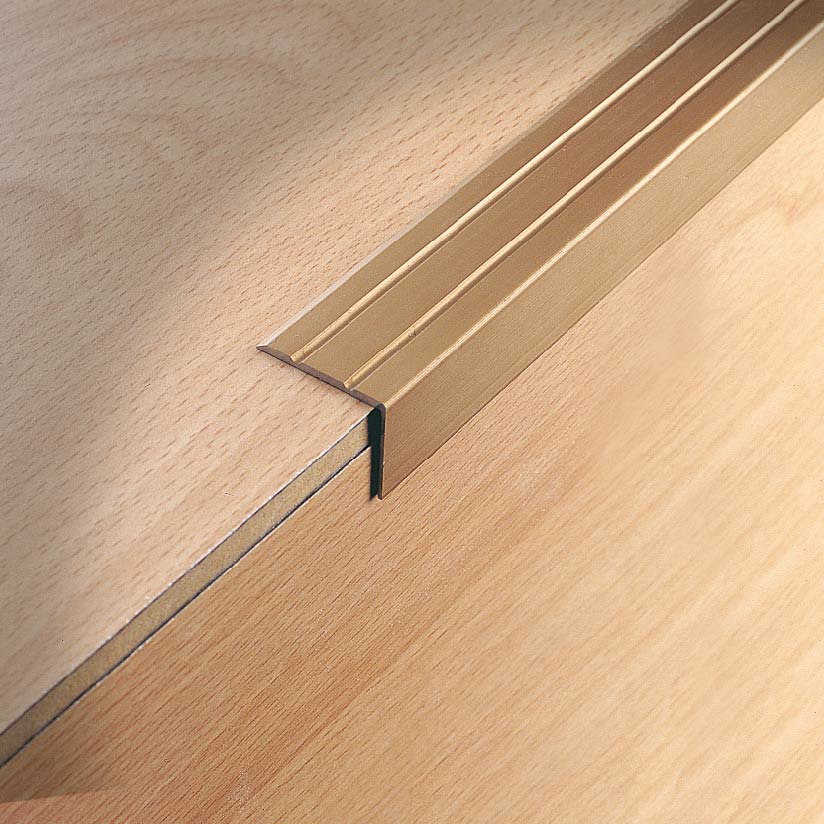 Characteristics of profiles with anti-slip strips for steps
Another solution to protect stairs with profiles, and which adds the security of avoiding or limiting accidents, are adhesive non-slip strips. It is a more functional and practical alternative than the previous ones even if it is usually less appreciated from an aesthetic point of view. The carborundum strip can be applied directly on the laminate or on the smooth surface of a stair nosing profile. The combination of Stairtec SA with the SWH strip is a functional example due to the friction properties of carborundum and it is aesthetically excellent. Carborundum is generally black in colour, but depending on aesthetic requirements it is also available in white, transparent and even photoluminescent.
Non-slip profiles and strips for steps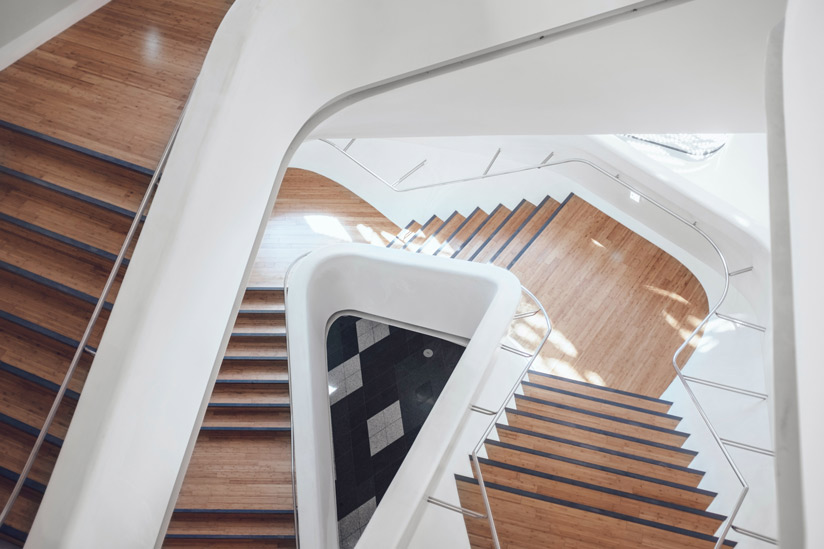 Materials and finishes of step profiles
Step profiles for laminate flooring have no particular material limitations. This is because, in most cases in domestic environments, the steps are not laid down in wet areas which are subject to continuous water flows, such as bathroom areas.
As a result, different materials can be adapted to the laminate, the choice varies according to their resistance and/or aesthetic value given by the finishes:
Steel profiles: they have extremely high resistance properties(anti-rust and anti-corrosion) but they will never take the aesthetic values of wood due to the limited variety of finishes;
Aluminium profiles: the solution with the best balance between resistance and aesthetic standards. The anodizing process protects the material from rust and makes it more resistant. This also allows it to be subject to certain decoration processes with pleasant finishes. Like the wood effect, for example, which is applied to the Multiclip CLS system, it is perfectly suited to laminate coverings.
Multiclip CLS step profile on laminate stairs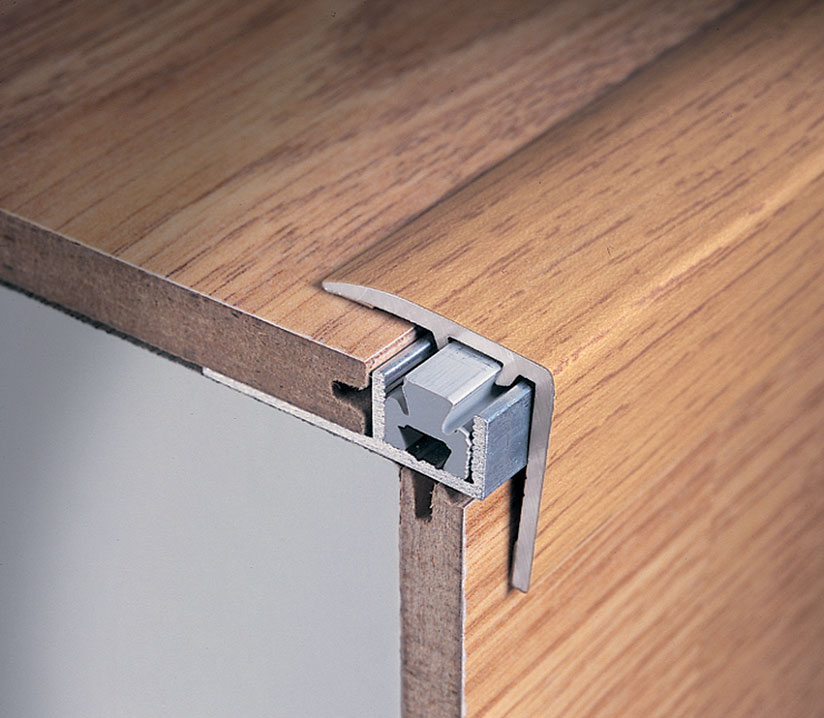 Profiles for laminate flooring at different heights
At the base of the steps, the flooring can continue in laminate and when changing from one domestic area to another, there may be a difference in height with another material, for example ceramic or carpet.
How can this difference in level between the two floors be corrected?
The solution is a connection profile for floors of different heights and materials.
Striptec ST is the ideal system that best adapts to these characteristics because it is applied after installation, it is therefore easy to install and can compensate for differences in level of up to 5mm.
Not to mention the finishes! It boasts a wide range of decorative treatments which, depending on the choice, are suitable for any type of room and floor.
This type of profile also takes on a protective function thanks to the large connecting surface that conceals any aesthetic defects at the edges of the flooring.
Representation of the difference in height between floors connected by a profile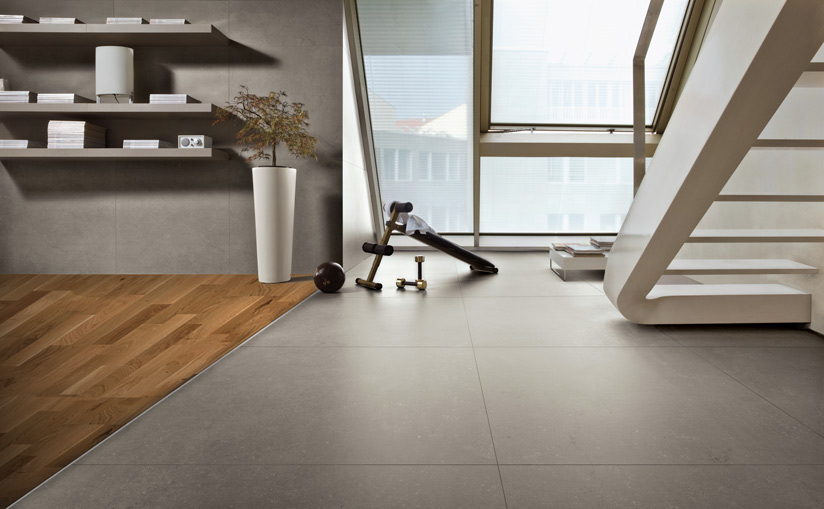 Types of laminate height difference connection profiles
The profiles for connecting height differences between laminate flooring and other materials are characterised by their shape and section. The protective surface of the profile can be more or less extended depending on the desired result, if you prefer a more minimalist and very easy to lay result you may select Striptec ST, whose slightly rounded shape allows to compensate small differences in height not exceeding 5 mm.
The choice of a more sophisticated profile which is still pleasing to the eye is Multiclip CLF, a much more dynamic and versatile compensation element, consisting of accessories that can be stacked according to the thickness of the floor materials. It must be installed during the laying phase in order to allow a better seal and resistance to footsteps. In both cases, one can indulge in the choice of finishes, the aesthetic canon is an important concept in interior design and the choice of similar or contrasting shades can make all the difference, even if we are talking about small elements such as profiles.
Example of transition profile for height differences between laminate and ceramics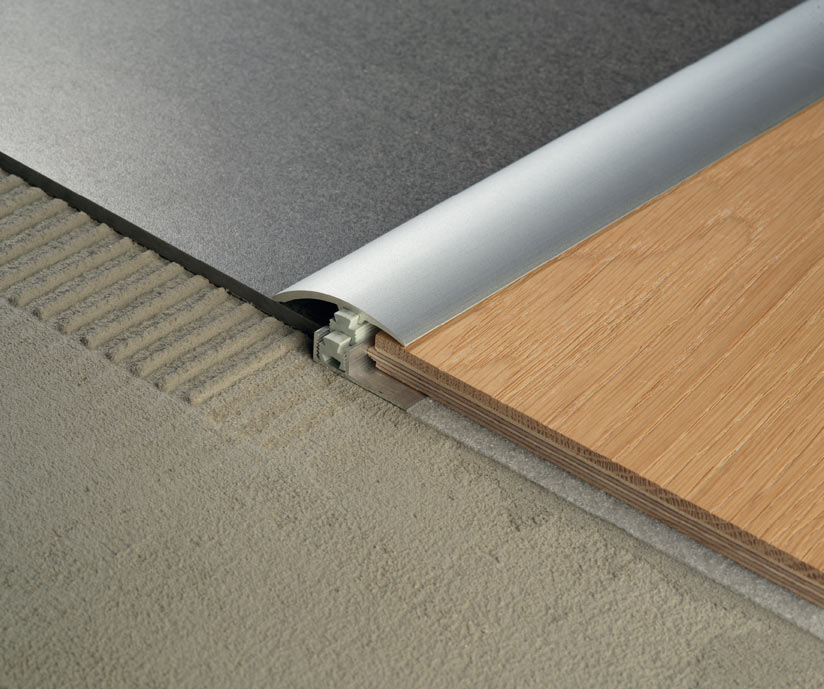 Expansion joints for laminate, what are they and what are they for?
The so-called expansion joints for laminate floors are actually simple connecting profiles which are also useful to ensure the natural thermal expansion of the wood.
As it is well known, wood is a living material subject to constant mutation and movement, these phenomena occur depending on changes in temperature and humidity. Expansion joints for laminate floors are therefore the ideal solution to limit unpleasant drawbacks, such as cracks or raising the laminate from the substrate.
Multiclip CLG is the solution to all these problems, the profile consists of 3 different parts:
Base, aluminium profile
Clip in resinil assembled by interlocking inside the base
Cover, coverage profile
All the above is completed by elegant natural wood-effect finishes for an impeccable result.
Example of laminate flooring with expansion joint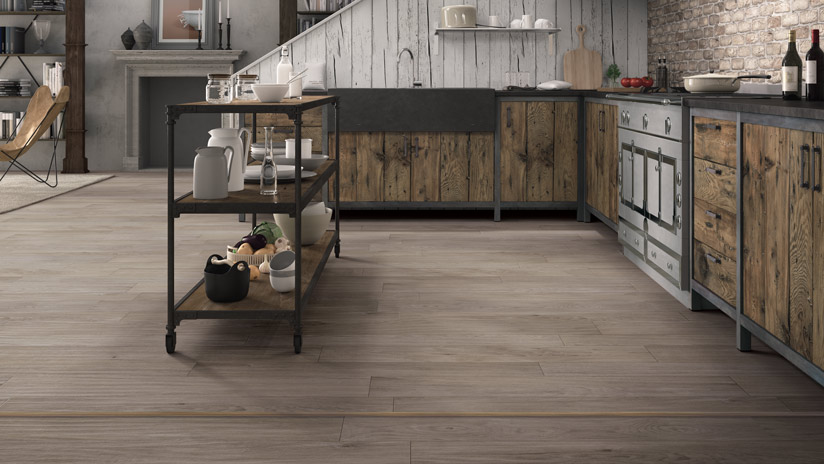 In which cases is it necessary to install an expansion joint with connection function?
The connecting profile used as an expansion joint must be applied in all cases where there is a surface covered with laminate or parquet, every 30 square metres, it will be necessary to interrupt the laying of the planks to apply the expansion joint. It is important to respect this size to avoid finding unpleasant surprises when the work is finished. Beware, however, each material, depending on the treatments and quality may have different expansion characteristics, therefore it is always necessary to inquire from the seller to clarify the material properties.
Those who want to try their hand at the "do-it-yourself" laying of this floor covering must be familiar with all its characteristics in order to reduce the margins of error as much as possible.
Laminated stair skirting boards, what are they for?
As far as internal staircases are concerned, another indispensable accessory is the laminate skirting board. In addition to being aesthetically pleasing to look at thanks to the effect of continuity with the floor, it can take on more functions, which are essential to ensure proper maintenance of the wood.
As thermal expansion can occur in flat areas, the laminate in the steps is also subject to movement. It is precisely the skirting boards that take on protective functions for the lateral ends of the stairs; in fact, the laminate cladding of the steps must never be laid against the walls because the wood could expand laterally. This is why the skirting board is useful, it protects and hides the space created at the ends of the staircase. It also helps to prevent moisture from passing through the lower layer of the laminate, which is obviously more delicate.
Laminate step skirting board BI 800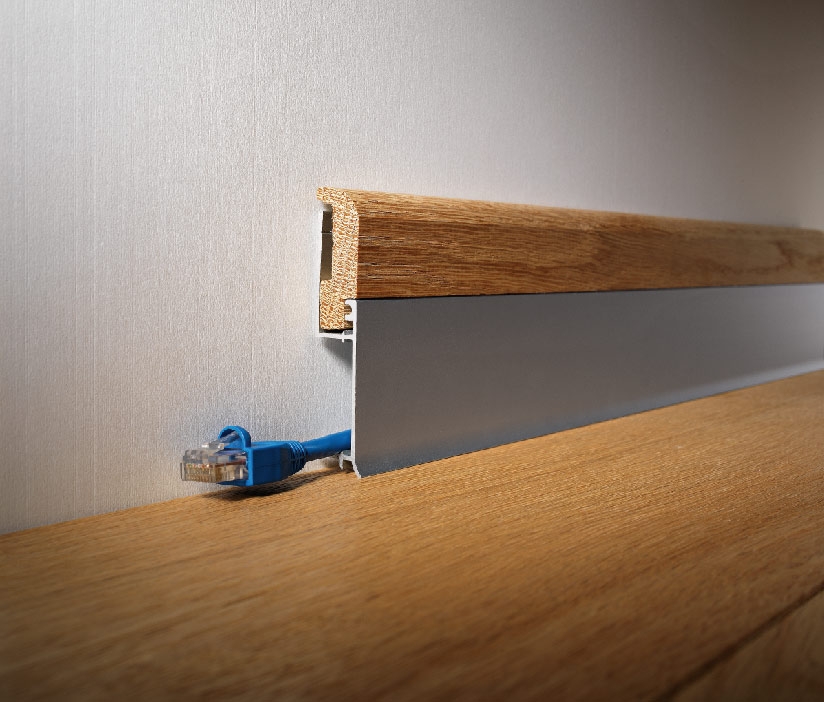 Example of Plano BF skirting board for laminate clad staircases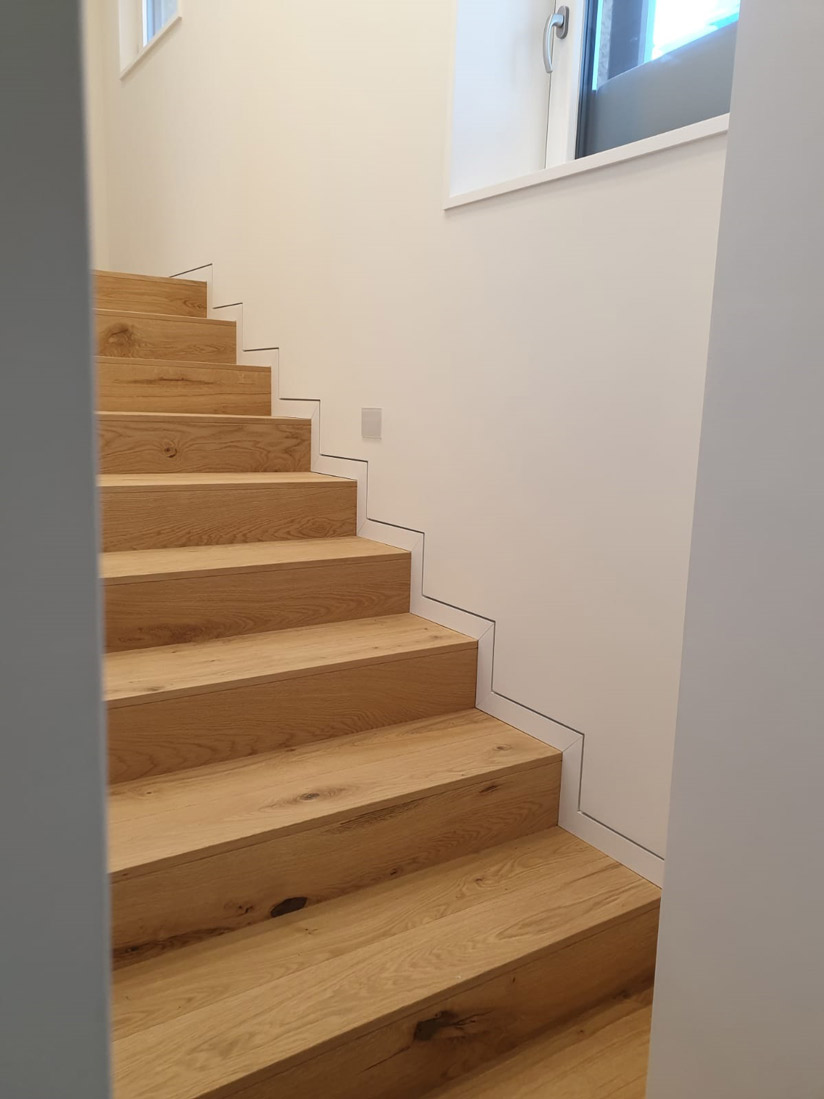 Functional and design solutions for laminate skirting boards
Laminate skirting boards can be decorated with wood effect textures and many other finishes so they are ideal for any architectural context. Let's see the Plano BF for example, a minimalist and complementary alternative between floor and wall covering. The system consists of a first supporting profile to be integrated into the wall structure and a finishing profile inserted by interlocking to create a coplanar effect of considerable aesthetic value. The latter is also available in wood, ideal for completing laminate surfaces. If you are looking for a more specific solution, the BI 800 skirting board is just right for you, consisting of an aluminium base and a wooden top to match the colour of the floor. It also has an innovative fairlead function.

Today you discovered something more about step profiles, expansion joints for laminate floors and skirting boards. Would you also like to know the solution which is best suited to your needs? We will be happy to help you, so please contact us!
Comments
There is no comment
Brighten your home with led strip profiles
Corner profiles and corner edges for tiles, unique installation solutions