Living in a Minion-shaped house... in the forest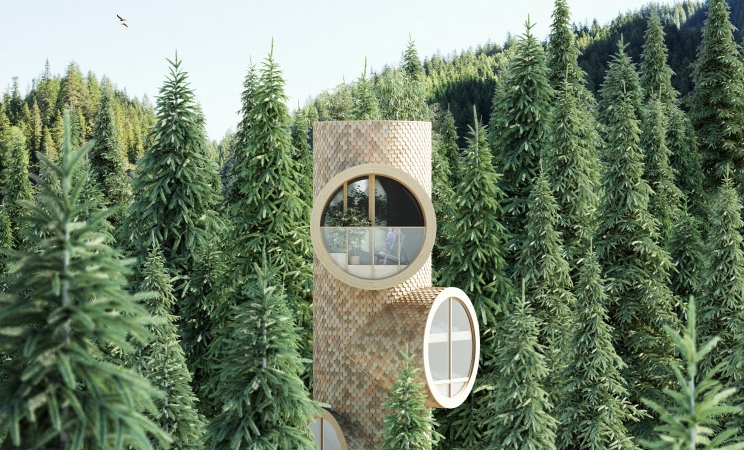 Inspiration from the world of cartoons: Minion-like architecture
The two creators were inspired by the characters in Minions and Sesame Street, which they used to realize homes that walk the fine line between architecture and nature.
Just like a real tree, a tubular structure looks to the sky, with different rooms including the kitchen, bedrooms and living room branching out, like the branches sprout from the trunk of a tree.
The dwellings are designed to reach out into the vast treescape, and in order to completely integrate into the forest, the buildings will be clad with wood, leaf-shaped tiles and topped with roof gardens. To complete the project, the soil water will be purified, photovoltaic panels will convert the energy needed to run the homes and composting toilets will manage waste.
Architecture from the eyes of a child
Looking at the project in more detail, the homes are characterized by a prefabricated structure based on a modular system which can be assembled together, and hence the house can also be disassembled and transported to a new site.
The possibilities are endless, with the ability to build houses of different sizes and configurations, from simple single-room homes to whole communities.
Bert lets inhabitants of all ages live in contact with nature and rediscover the ancient bond of our ancestors.
"As architects, no matter if young or old, we have an inner child that looks at the world with playfulness and curiosity. It is this curiosity that gives us the desire to explore, experiment and create. That same curiosity gave birth to Bert."
Chris and Fei Tang Precht
Comments
There is no comment
The house of Infinte, by Alberto Campo Baeza
What will be the color of 2020?