Immersed in a novel at the "Flint House", splendor in Buckinghamshire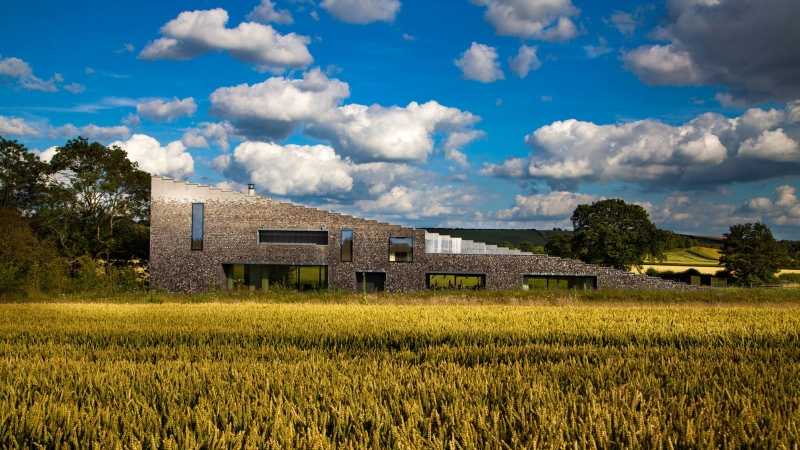 Flint house, la selce del Buckinghamshire
Inspired by the white flint cliffs along the east coast of Great Britain, architects Skene Catling De La Pena designed a cuneiform-shaped home, perfectly embedded in the sharp edges of the landscape. The Weddesdon Manor estate, named "Flint House," belongs to the wealthy Rothschild family and won the prestigious Royal Institute of Architect's House of the Year award in 2015.
The structure is entirely built with natural materials such as flint and gypsum, and is divided into two cuneiform volumes, evoking two mighty hills emerging from the ground.
Flint is, in fact, the dominant material of the homestead and surrounding scenery, chosen by the architects as the cladding material for the dwelling, perfectly marrying the metal and glass on the facades.

The architects brilliantly used different shades of flint to create an ombre effect on the vertical exterior surface, with the color of the stone slowly changing from dark to light as the building reaches towards the sky. Black squared flint blocks at the base of the building slowly transform into harmoniously shaped gypsum at the top of the structure. The color play creates a unique optical illusion, as if the house slowly disappeared into the horizon, vanishing into the white English sky.

The interiors of the home alternate between bright spaces with large glass panes and areas clad in stone where the cold flint penetrates the walls, reminding the inhabitant of the typical Buckinghamshire landscape. The "Flint House" allows visitors to live a magical and mystical experience, almost as mysterious and fascinating as a novel from the 1800s.

"The building has a rawness that echoes the landscape, jutting from the ground like a collision of tectonic plates, a man-made mountain that follows the profile of the existing trees. The landscape and architecture are inextricably linked, and the form is sculpted using layers of natural materials found there…"
– Skene Catling De La Pena Architects
Comments
There is no comment
Ice Dome, concerts in a masterpiece on ice
Coodo, the prefabricated mobile house